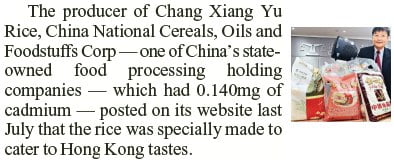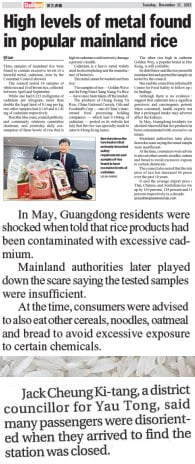 China's cadmium-tainted rice turns up in Hong Kong – but it's exclusive green-tea-and-watermelon-flavour Hello Kitty cadmium, specially designed to cater to local tastes. The Standard invites us to believe that when this contaminated grain appeared in Guangdong, residents were 'shocked'. Assuming we can believe anything else in the article, it seems the authorities up there basically said "Relax, there's nothing to worry about but you better eat noodles and bread instead," which isn't very surprising, either. Our own food-safety officials, by contrast, are leaping into action, to cater to the tastes of a population so used to perfection that people get 'disoriented' when a mass-transit station is closed.
Cadmium pollutes the soil around non-ferrous metals mines and is a cumulative poison with a long history of getting into the Mainland food chain. Not by coincidence, a fight broke out yesterday between Mainlanders and a local over baby milk powder. Nor is it a coincidence that a key feature of corrupt Mudanjiang tax officials' recently-revealed private luxury resorts was farms providing safe food.
On a brighter dietary note, Japanese researchers find that consumption of (not necessarily Mainland-grown) fresh fruit and vegetables reduces suicide risk. This fits in with lots of other evidence for a link between what you eat and how you behave.
To over-simplify: you take a bunch of violent, anti-social youths (of the sort found especially in some Western countries) who live off gross junk food (of the sort found especially, etc). You chuck them in prison. Then, you divide them into two groups. One carries on eating the burgers/fries/grease/starch diet to which they (and prison caterers) are accustomed; the other is forced, probably at gunpoint, to eat meals made with fresh unprocessed produce, mostly plants, a lot of it green and/or crunchy. Fast-forward a few months and Group A are still mutilating each other in bloody frenzies of anger-management issues, while Group B have become meek, obedient, productive and probably getting into flower-arranging and poetry. Something like that.
The theory is that real natural food contains particular Omega 3 fatty acids, enzymes and/or other ingredients that at a molecular level affect our brains and thus moods and behaviour. It could also be that the industrially produced, refined, reconstituted pseudo-food of the microwavable/packaged/convenience/junk variety contains artificial additives that also chemically change your mind, but for the worse; in other words, Group B become human again because something is taken out of their diet rather than put in.
With all this in mind, I present one of my favourite new dishes of 2013. The paprika-pork combination is well-established, and there are more than a few paprika-pork-garbanzo/chickpea recipes around. This adds olives. I'm sure I found it somewhere, but maybe I dreamt it.
Paprika Pork, Garbanzos and Olives Stew-type Thing
Ingredients (per person, roughly)
A few ounces of pork shoulder, chopped into small bite-size chunks

A cup of garbanzos/chickpeas (canned is fine)

A half-cup of green pitted brined olives (out of a jar is fine, stuffed with pimento is OK)

A heaped teaspoon of serious paprika (ie, some fancy, hard-to-find Hungarian or Spanish product rather than out of a jar from Park N Shop, if possible – definitely not stale stuff that's been sitting around for months)

A couple of bulbs of garlic

A dash of olive oil
 Method
What you would expect. Put oil, garlic, paprika and pork in a pot. Fry a bit, then add enough water to braise the pork (ie, just enough – this isn't a soup). If you're using dried/soaked garbanzos, add them now as well, and water as needed. Simmer until tender (probably 45-60 minutes). Add olives (and garbanzos, if using canned) after 30-45 minutes. Add salt if necessary (the olives should do the trick.) Serve with Chang Xiang Yu or cadmium-free rice, according to taste.

This is not so hyper-healthy as to make you into a flower-arranger, but nor is it so over-convenient and processed that it you will turn Group A psychopathic. Essentially, it is extremely tasty, courtesy of the paprika and olives. Note that the olives are not a garnish but account for a fair share of the volume of the meal – more than the meat.

Or, you can celebrate Christmas with this exciting pizza-flavoured pizza…