There is a limit to how far flexibility and giving the benefit of the doubt will go. Out of safety-first pragmatism more than anything else, the US says that although it doesn't recognize China's new 'air defence zone', it advises American civil airliners to identify themselves to Chinese authorities when entering the area. By contrast, Japan and Korea have told their airlines not to. Jingoistic Chinese observers have latched onto this as proof that Washington deep down recognizes the correctness of Beijing's territorial claims, and it is Tokyo that is the evil troublemaker threatening international peace and harmony. Japanese commentators meanwhile are criticizing the Americans for sending the wrong messages.
On top of that, the Chinese ambassador to the Philippines declares that her country might set up more air defence zones where and when it feels like it (eg: in the South China Sea, as soon as the clumsiest imaginable timing presents itself). And to make things interesting, Beijing is adding marine archaeology to its arsenal by claiming jurisdiction over ancient shipwrecks on the seabed in the region.
Into all this flies Vice-President Joe Biden. He probably assumes that China's new leaders are having problems asserting control over their ultra-nationalistic military hotheads and need some sort of face-saving way to adjust the Middle Kingdom's public stance from its current belligerent and over-defensive mode to one that is more confident and calmly secure. And he has to square that with a prickly nationalistic administration in Tokyo and a range of nervous allies in the rest of East Asia.
At the same time, he has to keep in the back of his mind the possibility that Beijing's increased aggressiveness is not just an unfortunate bit of internal power-struggling, but something more calculated. Japan's government is showing signs of renewed militarism; its leaders are visiting the Yasukuni shrine in person or in spirit; demographics and economics give the Land of the Rising Sun just this one last chance to establish whatever sort of Co-Prosperity Sphere the gods might have in mind for a Japan-led Asia in the 21st Century. The US is on the way out; it has such dysfunctional government that it can't solve basic stuff like the country spending double what it needs to on health care and letting the mentally ill have semi-automatic firearms, let alone overcome its crushing debt. An angelic Beijing could justifiably say

that it needs to out-gun a rising Japan in order to keep itself and the region secure as the US fades. A devilish Beijing could opportunistically see the mid-2010s as China's moment to seize the title of Asia's sole regional superpower.
There is only one dependable constant to make everyone snap out of all this and see sense here, and that is US military might. No-one outside Zhongnanhai knows the true level of China's military preparedness or capability, but although the PLA has acquired some flashy hardware in recent years, its forces are untested and inexperienced; chances are that they're mostly best suited for doing somersaults and karate-chopping bricks. Biden should discreetly make it crystal clear that bold announcements about zones is one thing, but the second any Chinese unit uses actual force, the US will respond and will prevail – just so there's no confusion, for everyone's sake.
On a brighter note, mouth-frothing maverick patriot Lau Nai-keung mentions the Chinese military today. He expresses anger about one of the Hong Kong government's laughable TV ads promoting the Basic Law. The clip shows a happy smiling family rejoicing in the fact that the Big Lychee is protected by the PLA for free – at no extra charge, just like the Snoopy Doll promotion at McDonalds except you don't have to stand in line and the offer doesn't just apply while stocks last.
As Lau notes, the ad is wrong on just about every level; the scenario itself, with kids spouting phrases about the 'treasured motherland' is a grotesque fantasy, and Hong Kong's status as Chinese soil does not spring from the Basic Law (w.e.f. July 1 '97). The reason it's junk, as he says, is that it was put together by people who are themselves clueless about Hong Kong's status under Chinese sovereignty, and – worse – who openly don't give a damn or expect any of the audience to, either. And they would be totally correct, if it were not that Lau Nai-keung happened to tune in at the wrong moment and caught them at it. It's tough being a patriot sometimes.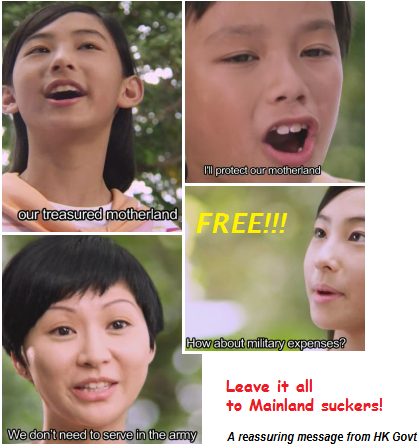 Oh, and yes – they do watch this stuff over in Shenzhen, and no, they're not impressed.