Pansy Ho, boss of Macau-focused hotels/ferries/property conglomerate Shun Tak, wins the 24th DHL/SCMP Business Person of the Year Award (link should be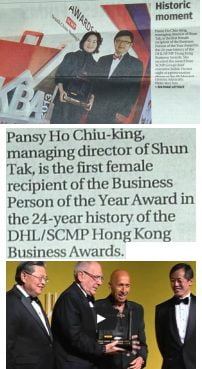 somewhere here
, but apparently isn't). To a Hong Kong hoping for a future as a developed, cosmopolitan economy, this event looks like a time-warp. The organizers are eager to highlight the fact that this year's winner is the first who does not have a penis – something that few people in this day and age would consider noteworthy. And, of course, they have given the award to a billionaire casino tycoon's offspring, rather than an innovator or entrepreneur (while, disappointingly, overlooking any colourful episodes in her business and personal life that arguably merit attention).
A quick look back at previous winners shows: Liu Changle, boss of Beijing-friendly Phoenix TV (2012); Peter Woo, scion-boss of Wharf Holdings property empire (2011); Christopher Pratt, boss of Swire Pacific property/trading/etc conglomerate (2010, good-naturedly deferring as token gwailo to property tycoon Li Ka-shing's lifetime achievement award)…  you get the idea. Allen Zeman? 2008. David Li? 2006. Tung Chee-hwa's brother CC? 2004. (Amusingly, the awards have been interpreted as a stock investor's sell-signal.)
It's a private-sector version of the Honours List, which lavishes increasingly debased Gold Bauhinia Stars and other trinkets on the same little group of elite worthies, plus a few bureaucrats and others, year after year. In both cases, the pool of acceptable candidates has long been exhausted, so organizers scrape the bottom of the barrel, oblivious of any economically or socially useful work being performed by anyone among the other 99.99% of the population. (The Sing Tao media group has a parallel Leader of the Year Award, which complements establishment recipients with non-threatening outsiders like sports medalists and the more cooperative and constructive sort of disabled-rights lobbyist.)
Taken as a whole, this self-selecting coterie is the cream of co-opted – that is loyal, but non-Communist – Hong Kong society. They are much the same people who shoe-shined the colonial regime back in the old days, plus some Mainland business and other figures. Beneath this elite stratum is a broader base of painstakingly hand-picked citizens deemed dependable enough to sit on government advisory bodies, hence the ubiquitous Bunny Chan, member of everything. In theory, a few of these types might rise through the ranks into the upper levels (though of course not to the very peak occupied by the property tycoons), but in practice Bunny's chances of being tomorrow's Ronald Arculli are probably limited (…not really one of us).
Where it starts getting weird is that this select, smug set is at least partly separate from the current regime. Self-made, patriotic non-bureaucrat CY Leung is not one of them, and several of his underlings (forget their ineptness or other characteristics for the moment) are also outsiders in this exclusive world of the great and good, who were our undoubted local masters under Chief Executive Donald Tsang and who openly wanted Henry Tang to be boss. (There is some overlap: some members of the Business-Person-of-the-Year milieu are nimble enough to have a foot in both camps by choice, and some straddle the divide under orders from Beijing, which wants a united United Front.)
Some questions… Is the old tycoon-bureaucrat clique a reactionary bunch of has-beens condemned to giving each other awards and medals and pompously kidding themselves that they are still in power? Or is this ancien regime biding its time before they can nudge the not-quite-one-of-us usurpers aside and restore themselves in their rightful place ruling Hong Kong? The decision will be made by Beijing, which could also take the boring route (forcing the two streams to merge and keeping them in charge) or go for something more interesting (continue to abandon the tycoon caste and build up the Communist loyalists' role in local government)? Answers in 2017. And – congratulations, Pansy.
 Meanwhile, on the subject of outstanding local elites…