Hong Kong wakes to find on its doorstep steaming piles of ordure left over from the era of ex-Chief Executive Donald Tsang.
The least offensive bit of ooze comes in the form of Timothy Tong, former head of the Independent Commission Against Corruption, who lavished himself and an endless parade of Mainland officials with not-very-pricy – and inevitably trashy – jaunts, meals and gifts on departmental expenses. For our amusement, the Legislative Council established a select committee to put him on the rack over these high crimes, misdemeanours and 'bestowal and receipt of gifts'. Google 'Timothy Tong' and 'maotai', and you get 22,600 hits in English alone.
He has seemed genuinely surprised to hear lawmakers and others suggest that he wasn't supposed to use public money this way, and seems defiant to the last, arguing that the culture of Mainland officialdom required him to hand out booze everywhere and go on duty visits to dreary tourist attractions. (A full itemized list of every glass of wine, every 'Hong Kong scenery crystal ornament' and every chill-out session with the Vice Mayor of Guilin City – and much, much more – is here. Enjoy.)
And what advantages did he receive in return for handing out and accepting all these barely desirable freebies? He did get appointed at the beginning of this year to the Chinese People's Political Consultative Conference – a symbolic body of retired loyalists, shoe-shiners and waverers-who-need-to-be-flattered – but he can't be that sad. As Thomas Moore said about being offered the post of Attorney General in a windswept principality: "It profits a man nothing to give his soul for the whole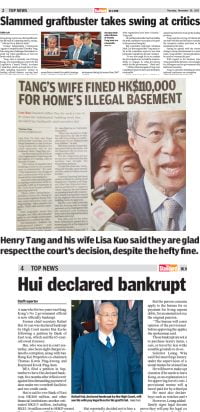 world… but for Wales?"
Alongside that we have a rather more serious lump of noisomeness in the form of Lisa 'Tang's wife' Kuo, who gets fined HK$110,000 for her illicit luxury basement in Kowloon Tong. Those of us with illegal structures will be delighted to note that the usual penalty is a tiny fraction of this sum. But this is more serious than that because genuine skullduggery was afoot here. Unless these things happen by accident, someone deliberately revealed the existence of these unauthorized building works to scupper Henry Tang's chances of becoming Chief Executive.
Opposition politicians have focused on the arrogance of the rich who think they are above the law, while the media were intrigued by the basement's wine cellar and other amenities; few want to delve into the murk concerning who leaked, and why. We do know that the construction work would have required fleets of rather noticeable trucks, and that Beijing's local emissaries had an office just across the road from chez Tang, and we can guess that the Big Lychee is not insulated from power struggles and factionalism within Chinese officialdom. We can only speculate about what life would be like today if CY Leung had come second in the CE quasi-election in early 2012.
People who think that things could only have been better if rule by Donald Tsang's tycoon-bureaucrat 'elite' had continued in full might like to consider the biggest bit of slime in this morning's fetid heap: Rafael Hui. The ultimate smooth, smug, career civil servant, accused of accepting bribes from property tycoons, has been declared bankrupt. No crystal scenery ornaments or freebies in Guilin, here – this is how the pros do it. As well as allegedly pocketing backhanders worth millions in cash and in kind, Rafael somehow racked up huge debts, which are of course strictly confidential, and apparently total some HK$75 million, with HK$60 million from Bank of East Asia, a precise HK$9.84 million from Chong Hing Bank, and so on.
Intriguing questions for our ever-inquisitive media to overlook… Why did these (mostly family-run) institutions lend him such sums? What role did hobnobbing with billionaires play in warping an upper-middle-class functionary's morals? (Maybe Donald can help here.) And most of all, what the hell did he do with it all? Has it evaporated into thin air?
As a bankrupt, he must now live frugally while waiting for that court case – which, for our entertainment, perhaps, he will fight with the help of some failure of a barrister needing legal aid work. So we can expect to see him riding the tram, living in a 300-square-foot box in the New Territories and rummaging through the supermarket's passed-sell-by-date fruit and vegetables, while pondering their gradual descent into rottenness.