Some people are so hard to please. In 1989, Tiananmen student activist Wuer Kaishi was (we can presume) more than happy not to be arrested by Chinese authorities, and no doubt hugely relieved that Hong Kong let him pass through and didn't hand him back. Now he's complaining because… he still isn't being arrested and Hong Kong still isn't handing him back.
You can see why China expels these people for good. Exile is a cruel and unending punishment for them and their families. What better way for a vindictive regime with a long institutional memory to gratify itself? And it's a gift that keeps on giving. From Chai Ling to Chen Guangcheng, more than a few of China's fleeing dissidents have a knack of seeming less than grateful to their hosts or otherwise apparently betraying the virtues Western sympathizers saw in them. Far more tortuous for far more enemies than a soon-forgotten bullet in the back of the neck.
We are all hard to please. Wuer Kaishi annoys for changing his tune. Hong Kong Monetary Authority boss Norman Chan irritates by coming up with the same, tired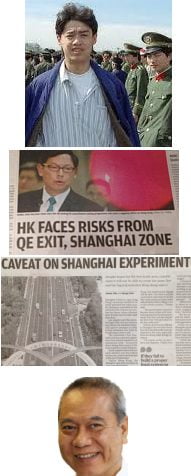 old blather. In all fairness, Chan might have told the HK General Chamber of Commerce 'business summit' something more interesting, and the South China Morning Post is to blame for latching onto the banal and insipid bits out of familiarity (or something).
Anyway, he seems to have droned on about the supposed challenge posed by rival cities, and of course the much-vaunted Shanghai Free-Trade Zone. This zombie-mantra is too unoriginal and illogical to merit a response, but the SCMP actually provides one over the page, with some shocking and exclusive, investigative undercover reporting about how the Shanghai FTZ lacks minor details like a closed border and a legal system.
Norman Chan's main point seems to have been that the biggest risk Hong Kong faces is an end to quantitative easing in the US. That's right: higher interest rates, which would end the distortion of our economy and tilt the odds back in favour of savers over speculators – that's a risk. An end to the debasment of our currency – that's a risk. There is a case for quantitative easing, and that's the threat of a debt deflation death spiral. But Chan's not worried about that (it's not a problem for Hong Kong's bubbly economy). He's worried about an outflow of capital, and overleveraged players who chased easy returns getting into trouble. God forbid that people might have to save, work hard, invest and innovate to make returns.
For single-minded, unvarying clarity, we must turn to scourge of dissidents and pro-Beijing mouth-frother Lau Nei-keung. He bitterly (knowing no other way) criticizes both the pro-democrats and our government officials for 'undermining' National People's Congress standing committee official Li Fei's message to Hong Kong during his recent visit.
It has to be said that Mainland officials who deign to talk to Hong Kong do not help their messages when they use apparently empty slogans, veiled hints and total meaninglessness where plain speaking would do. (As an aside, we'll overlook the fact that Lau blames Hong Kong for its current predicament, which he says results from the city's post-2003 'disrespect for Beijing' – as if local dissatisfaction did not reflect Beijing-imposed poor governance.) Anyway, Lau interprets the cadre-speak for us:
…political reform has to ensure accountability towards the central government in all the stages of nomination, election and appointment … every eligible person is entitled to apply for a nomination, but through the "democratic process" prescribed by the Basic Law yet to be devised after public consultation there is no guarantee that he or she can be nominated to become a candidate. It is one of the responsibilities of the nominating committee to screen out unsuitable applicants, so that the risk of the central government having to exercise its right not to appoint will be minimized. 

This is where the concept of the "patriot" comes into play. Under the current institutional setup, the identification of who is or is not a "patriot" has become the central government's only means to participate in the nomination stage indirectly and legitimately. This may not be a perfect solution, but it tackles the problem just fine. 

Beijing has always made itself clear and tried to play a fair game. It's now our turn to formulate a serious response.
Lau is, of course, a maverick. Everyone else must carry on promoting or absorbing this concept as a nearly-invisible wodge of undefined fuzziness that is never to be spelt out in actual words.