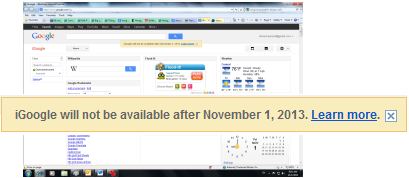 RIP iGoogle.
iGoogle is, it says here, a 'customizable Ajax-based startpage or personal web portal'. As well as Google search, it contains all my bookmarks, the highly addictive Flood-It game, a huge 'sticky note' mostly listing YouTube URLs for future reference, Google Translate, my Gmail, a Wikipedia search box, the time and weather, plus Google News feeds for the subjects I find interesting. In any civilized place in the world, I can log into it and instantly be at home. That's why it's called a home page, and it's why users of iGoogle are angry that the service is being scrapped in a few hours' time, because this is like being evicted with nowhere to go.
Google thinks it's outdated and old-fashioned and no-one needs it any more in this exciting world of apps. All the features will still exist, but it seems on PCs they will be best (or only) accessed through Chrome and you will need to go through Google Now. This is essentially iGoogle's replacement, and it is primarily designed for the 2010s world of teenagers clutching little plastic slabs everywhere they go, rather than the 2000s era of grown-ups sitting at desks with PCs.
Google Now, so far as I can tell, is not just configured for smartphones and tablets. Its features are heavily biased towards the hyperactive attention-deficit disorder types who take pleasure in constantly being in others' faces, and in constantly having others in their face. It is a hellish world of constant updates and messages and general jabbering, where no-one reads or looks at things – they just share them, incessantly. As it happens, several entrepreneurs have launched replacements for I-Google, which will either serve the purpose well, or at least help to wean people like me off our trusty old home page onto… something else.
This is progress – the constant fixing and upgrading and replacement of things that work perfectly. It's like the time Vitasoy withdrew their mint-chocolate flavour. You just think… why?
By coincidence, I am moving gingerly, and for intellectually respectable and adult reasons, into mild gizmo-clutching. Many moons ago I was compelled to start using an iPhone. I never did manage to repeat the absurd business of copying MP3s onto the thing – forget about putting videos on it. Nor did I ever have the patience to register with Steve Jobs' cyber-gestapo to download apps (I gave up when they demanded my mother's maiden name). So it sits there as my work phone. In fact, it doesn't even do that, having a SmartTone account that fails to provide a signal, curiously, in a single Malaysian or Singapore restaurant in town, nor in a wide variety of other locations, including my own apartment (which, I must say, I rather like).
Good camera, though.
And I am now proud owner of this beast, a Samsung Galaxy 8 LTE (or something), seen here displaying a picture of itself, taken and displayed by the iPhone, with an everyday household item alongside for scale…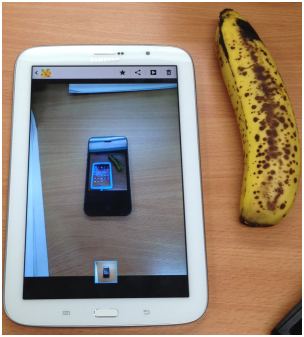 You can of course put music on it without a titanic struggle with Apple's wretchedly awful iTunes. Also, unlike the Apple garbage, you're allowed to put videos on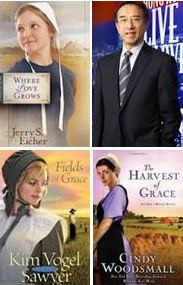 it, so I have On The Beach downloaded from YouTube waiting for when I have a few spare hours. I've downloaded free e-books from Amazon's Kindle, like the Dore-illustrated version of Poe's The Raven, and, of all things, Foxe's Martyrs. They also have an intriguing range of pulp Amish romances (I'm thinking 'trapped in a malfunctioning escalator between floors with James Tien', and I'd be glad to have a few 'bonnet-rippers' to pass the time before the rescue guys get us out). And I've downloaded Flood-It. And Google Sky Map, which shows the stars you can't see at night (and day – who needs clean air and a clampdown on light pollution?) You can input Chinese with your finger, if you like, and you can type on the keypad without taking your fingers off if you remember where all the letters are fast enough to swype it this way and that, which I can't quite. The device also comes with a sort of pen that you use for doodling or writing, which is probably also a gimmick, but is powered wirelessly by the device thus also amazing.  And the battery seems to last for days.
I still haven't 'migrated' to Google Now on the thing; I might see if you can disable all the tiresome 'keeping-in-touch-with-everyone' stuff, or not bother. And I declare the weekend open with the warning that I might get into Twitter.