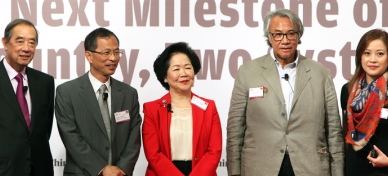 The South China Morning Post holds a debate on democracy. Although the event yields a full-page report and page-one story, the choice of participants suggests extreme caution on the part of the organizers, as if the audience comprised victims of post-traumatic stress disorder and serious heart conditions.
SCMP staff must have been too numb to groan when someone inevitably suggested Ronald Arculli GBM, GBS, CVO (don't ask), OBE, JP. The all-purpose, pro-government, pro-tycoon lawyer is a member of so many property developers' boards and public bodies, that it's amazing he found the time. Sitting on, for example, the Justices of the Peace Selection Committee really eats into your day. Most dazzling and profound contribution to the discussion: "We the community should not be totally consumed by the [political reform] issue. The economy and employment are also very important."
Next up was Dame Conscience herself, former Chief Secretary Anson Chan. Her basic position, though she wouldn't exactly put it this way, is that Hong Kong should never have ceased being a British colony, with her in charge, naturally. "We have been waiting … for 28 years since the [first] direct election to the district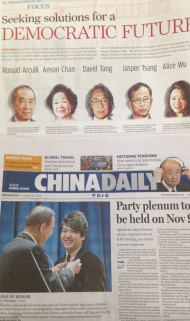 councils, yet we are still waiting [for universal suffrage]," she said yesterday. This is a bit rich from someone who, in her time as a pre- and post-1997 senior official, would have played her part in delaying and denying democracy. "If I can't run the place as an autocrat, no-one else should be able to," might be a bit closer to the mark.
There's an old Chinese saying – I think – about how if you see someone once, after many year years' absence, you soon see them again. And lo, after encountering entrepreneur, etc, etc David Tang for the first time in ages just yesterday, he makes another appearance. He has strong opinions on many things, but restricted himself to the obvious in this debate. Sample comment: "We cannot rely on [Chief Executives] for leadership – that is why we have endless consultation." Which should lead to a "therefore…", but doesn't (or at least not one that makes it into the story).
The only person likely to be worth listening to out of this lot would be Tsang Yok-sing, Legislative Council President and leading figure in the Democratic Alliance for the Betterment Etc of Hong Kong, the Chinese Communist Party's de facto local front. Like others born into the quasi-religion, he has remained loyal even as Beijing has pointedly kept colonial-era capitalists and bureaucrats of the Arculli-Chan variety running the city under the Motherland's sovereignty. But he has recently shown some exasperation with the current political structure, and probably calculates that the patriotic camp would have a better chance of exercising power with universal suffrage than without. "Standing still" will mean "disappointment and resentment," he said, after "16 years of … very serious flaws in governance." Under the system, that is, insisted upon by Deng Xiaoping and his equally venerated comrades and heirs.
Last comes an SCMP columnist called Alice Wu, who stirred things up by declaring: "We have to praise the moderates for being moderate." Our problems solved.
On an equally exciting note, Pacific Coffee this morning was handing out free copies of China Daily. (If this is how they attract customers, what would they do to repel them?) No mention of yesterday's alleged/apparent Xinjiang suicide bombing in Tiananmen Square, but, as always, the propaganda sheet devotes a lot of space to items about tourism.
It's a safe, largely neutral subject. It offers opportunities to stress Chinese people's growing individual freedom and prosperity, shopping in Paris and snorkeling in the Maldives. It has undertones of international friendship, as happy smiling people visit each other's countries and enjoy all that deep and meaningful cultural exchange.
Maybe they will pick up on a recent piece from the New York Times. A British sociology professor says that Chinese (and Indian) tourists should be free to spit when travelling overseas, and foreign hosts should stop imposing their racist, anti-phlegm cultural colonialism (OK, not in those exact words) on them by insisting they hold it back or do it discreetly in a tissue (ditto).
Then again, maybe it's not so much a tourism story as one about sociologists.