Hong Kong is under siege from Mainland kindergarten kids, Mainland special free-trade global financial hub-zones and Mainland pillagers of infant formula, but the struggle for universal suffrage goes on. The city's Alliance for True Democracy produces a proposal for reform of the 2016 Legislative Council election system. This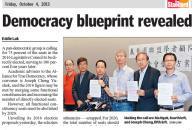 follows their earlier suggestions for the 2017 Chief Executive election arrangements. More boisterous pro-dem groups have become preoccupied with the latter, especially the issue of who can nominate candidates, specifically demanding that the Basic Law's reference to a 'committee' doing the job means the entire electorate can take part. The Alliance, in contrast, are taking seriously Legco's part in the forthcoming constitutional reforms.
Under the status quo, Hong Kong people elect the opposition, not the leadership. As a result, many legislators use what powers they have to indiscriminately obstruct the executive. In theory, the post-2017 legislature will be checking an administration that has a popular mandate. What changes to the Legco election system will best enable it to do that effectively?
The picture is complicated by the existence of functional constituencies. To paranoiacs in Beijing, these seats (or a big bloc of them) form a veto that it can wield in emergencies. But to the political process in Hong Kong, they are a bane: commercial lobbies accustomed to an institutionalized right to override the public interest. The FCs themselves will screech that they must remain intact, but it is not up to them or us; they are shoe-shiners whose fate is purely in the Chinese government's hands. Will Beijing continue to insist on some sort of veto in Legco, or will run the risk – as it has to consider doing with the CE election – of letting go a bit? (And can it bring itself to disappoint loyalists in the business community?)
The Alliance for True Democracy's proposals are in the Standard article and in more detail (in Chinese) here. There must be a near-infinite number of permutations of totals of seats, ratios of various constituency types and voting systems. These suggestions come from academics, and are essentially as sensible as they are potentially mind-numbing (though does a city of 7 million really need 90 lawmakers?). Presumably, ex-Chief Secretary Anson Chan's HK2020 group will offer even more moderate ideas (if they haven't already – it's a Friday), while radicals will demand the blatantly impossible. Unless brought to heel by Beijing, pro-business 'elites' will quite possibly propose their own buffoonish ways to keep the FCs' privileges intact, which will be roundly rejected by pretty much everyone else. The Hong Kong government's proposals, vetted and approved by the central authorities, will aim at a middle ground. With the pro-dems wielding a veto over constitutional bills in Legco (a precaution designed to work against them) and the such-as-it-is threat of Occupy Central, the administration will need to target middle ground that's not too far from where the milder pro-dems are standing.
We declare the weekend open with a reminder of the extraordinary sophistication and compassion of the Big Lychee's legal system: while slaughter of a sober feline is of course illegal, a criminal gets an extra heavy sentence for killing a drunk one – off its guard, and thus less able to defend itself. Quite right, too.