Here's a pretty typical bit of New Territories architecture…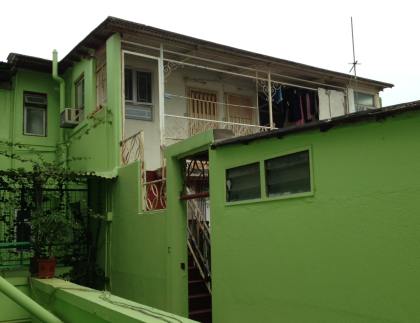 It was going to be an all-purpose shack-cum-pigsty, but then rents rose and it made sense to jazz it up with some rusty old air-conditioners and other salvaged conveniences and declare it open for human habitation. Similar buildings are next to it and opposite…

Snakes hiss in the grass. Out the back, there's a few old banana trees, an illegal container storage dump and a dirt track leading to the main road. In the distance lie the lush green mountains of Tai Lam Country Park – or is it Shing Mun?
But then you peer over a wall, and you find yourself looking down on this…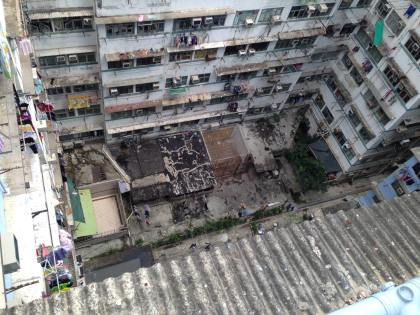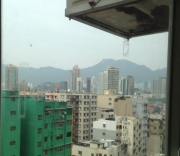 And when you look out the window at the back, you get a rather fetching panorama of the area from Kowloon Tong over to Wong Tai Sin, with the majestic Lion Rock in the background.
This is Roof World – a little neighbourhood of huts and more-or-less houses perched on the top of a large old residential building in Kowloon City, a few hundred yards from the northwest corner of the old Kai Tak airport. Motto: 'Closer to Heaven'. Some of these illegal structures look sort-of poured onto the legal (maximum in airport days) 11th floor, like a layer of gooey icing on a cake; many, though, are distinct one- and two-storey boxes boldly using the rooftop as open ground affording space not only for homes, but for little yards and a pathway linking them to the stairs into the actual block. They are made from thin brick walls and re-cycled bits of other buildings, and they've been here for years, so must have seen plenty of typhoons come and go.

Residents can sit out in the evening (the Filipinos over on the left use their veranda as the kitchen/dining room) and tend their potted plants. It's green, in a concrete-rooftop way, and surprisingly quiet. Who lives here? Obviously, people who can't afford anything better (or who think this is better than the pricier, sealed-in and noisier legal sort of dwelling). But otherwise, all sorts, it seems; even a good mix of young and old.
A glance around shows that many of the district's older buildings have unauthorized extensions on top of them, as in many other older urban areas of Hong Kong. But many don't. A bureaucracy of lateral thinkers (if not a contradiction in terms) would consider legalizing an extra layer or two of suitably designed homes on residential blocks – subject to buildings' load-bearing capacities, etc – as a way of easing the shortage of affordable accommodation. As it is, the government seems to turn a blind eye, and utilities are happy to connect '12th Floor' dwellers up to services.
Citizens of Roof World have all the pleasures of Kowloon City below them. For the time being, it remains a relatively uncrowded neighbourhood, with cheap eateries of every description and surprisingly zippy bus connections to Tsimshatsui and Hong Kong Island. Of course, it won't last. The MTR is coming through (read: high-rise rabbit hutches), and this city of 'shortage of land' will, one distant day, finally get around to developing the sprawling, unused expanse of Kai Tak runway and apron. Financial Secretary John Tsang, the linear-thinking bureaucrat's linear-thinking bureaucrat, dreams of finally bludgeoning the area to death by turning it into a 'gourmet city, partly feeding off cruise terminal passengers'. Nicely seasoned with garlic and black bean sauce, presumably.