In the South China Morning Post's business section, the campaign to establish Shanghai's free-trade zone as a rival and vanquisher of Hong Kong continues. In an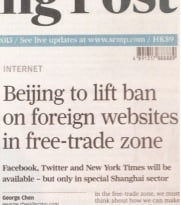 attempt to come across as really modern, trendy, ever-so free, normal and global and to 'let foreigners live and work happily', the Chinese Communist Party may let people look at Facebook and the New York Times within the confines of the exciting new super-hub. Such desperation can only provoke a twinge of sympathy among anyone with an ounce of humanity. If an aspiring financial centre could fall to its knees sobbing and wailing "I just want to be accepted, to be loved!" this is what it would look like. Sad, really.
In Singapore, it's the other way round. Several banks have admitted to 'hot spots' within their organizations "where clusters of employees from the same country appeared to have developed over time." In response, the Lion City is listening to its citizens and making it harder for outsiders to get in. (Hong Kong officials have a tougher time. To appease residents and calm anti-Mainland feeling, they clamp down on milk powder exports. But then Mainland counterparts criticize them for it; presumably, the cadres will be happier when gangs in Sheung Shui go back to verbally abusing 'locusts' at the MTR station.)
No-one is ever satisfied. What's the betting that as soon as Xinhua issues the story 'Shanghai proudly announces clusters of employees from the same country successfully developing', people outside the free-trade zone will be whining about barbarians hogging all the wi-fi bandwidth?
Meanwhile, on a much brighter note, the SCMP's 'Lai See' column mentions a new participant in the Occupy Central movement: courier company SF Express. The trucks and delivery boys often cheekily help themselves to a lane at the bottom of Wyndham Street to sort out all their boxes and packages. Sure enough, at 8.30 this morning they were doing just that… 

And just a few yards up the hill, Watson's Your Personal Store – part of property tycoon Li Ka-shing's empire – was colonizing space on both road and sidewalk in the course of distributing dozens of carboys of drinking water.
These daily events are good corporate citizenship at its finest. The firms are using public areas for purposes that are at least vaguely productive; the courier company ensures (I'm guessing) that Hong Kong's brokerages get a ready supply of IPO prospectuses, while the retailer keeps the city's industrious office workers hydrated every day. More to the point, they are denying space to two of the Big Lychee's greatest afflictions. Without these firms' presence, we would see chauffeur-driven, eight-seat Alphard luxury vans illegally parking at the roadside, and one of the previous night's Lan Kwai Fong drunks lying comatose in his own vomit on the sidewalk. I nominate SF Express and Watsons for a Gold Bauhinia Award.