"The name's Bhoocha-Oom. Areepong Bhoocha-Oom." You would expect great things from a man called Areepong Bhoocha-Oom. And indeed he does not disappoint. In his capacity as Thailand's Permanent Secretary for Finance, Areepong Bhoocha-Oom has decided to cut import tariffs on overpriced designer-label 'luxury' crap of the sort whose retail outlets have been spreading like an uncontrollable cancer through and beyond the shopping districts of Hong Kong. His aim is to lure brand-obsessed Mainlanders away from the Big Lychee, and what can we say except: Areepong Bhoocha-Oom – gentleman, genius and saviour.  
Will it work? The levies, currently 30%, could come down to a nice, neat zero – matching the levels in Hong Kong. Given Bangkok's far lower rents and labour costs, that could make the Land of Smiles better value for money for at least some of the 'locust' tourists who have become Hong Kong's great curse. Thai airline and hotel stocks have leapt as much as 10% at the news.
One encouraging sign is that the Standard doesn't like it, calling the measure a declaration of war. We can surely take heart if Areepong Bhoocha-Oom worries supporters of our parasitical tourism industry. They look at Bhoocha-Oom, and they shake in fear of a Hong Kong where landlords can no longer raise rents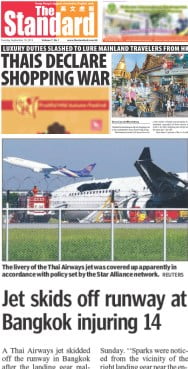 incessantly and drive more and more locally-oriented stores and restaurants out of business, and where our sidewalks and public transport are no longer clogged full of visitors.
However, Areepong Bhoocha-Oom's noble intentions may not have as great an impact as right-thinking people would like. Thailand is several hours' travel-time farther away than Hong Kong from most parts of China. The kingdom will continue to impose a 6% or so sales tax on everything. The range of tatty designer-label tripe on offer is, by some accounts, narrower down there. Mollycoddled local producers of native luxury junk fear competition from the faux-Italian and French stuff. Thai Airways celebrated the announcement by skidding off the runway at Bangkok with a plane full of Guangzhou-ites, who will no doubt now be warning their compatriots about the dangers of a trip to Thailand. And then there's Bangkok itself – a city whose spiritual and aesthetic charms may be less obvious to materialistic Mainlanders than its traffic jams, rancid canals and occasional cheerful Southeast Asian inefficiency.
We shall have to wait and see. Think positive. A cut in Thai import duties certainly can't do any harm. If we see a noticeable drop in Mainland shoppers – maybe even an end to the spread of inane brands like the recently arrived and thoroughly wretched-sounding 'Paul & Shark- Yachting' – there can be no doubt about it: a Gold Bauhinia Star for our rescuer and friend, Areepong Bhoocha-Oom.