A quick visit to Macau over the weekend revealed the city to be preparing for one of its largely make-believe Legislative Council elections next Sunday. The South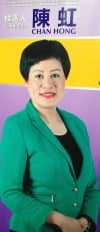 China Morning Post explains how the voting system makes Hong Kong's look democratic. There are 14 directly elected seats, 12 easily rigged, indeed uncontested, functional constituency seats (two occupied by the chief executive's family members) and seven simply appointed by the government. The campaign spending limit is HK$5 million (a multiple of Hong Kong's per-voter), giving the wealthy a big head-start. The media are in practice at least semi-censored. Campaigning is permitted only during a two-week period. Banquets and other vote-buying techniques are common.
Even among Special Administrative Regions, Hong Kong is an outlier: Macau's Basic Law makes no mention of universal suffrage as an 'ultimate goal' and its people have little tradition of civic activism.
Our guest model above right represents the Social Services and Education sector – but you could tell, anyway.
Then there's this…
Only in Macau can you restore your sugar and lactobacillus levels with a Sprite and Yakult cocktail while watching a volcano and a Tang dynasty fortress being demolished. The so-lame-it's-almost-interesting Fisherman's Wharf theme park, awkwardly designed to give Sin City a dash of vice-free, family-oriented appeal, is coming to terms with the fact that it's an unloved failure. The word is that a Japanese company is planning to move in and introduce pachinko – an activity usually associated with Yakuza-run gambling operations, which sounds perfectly in keeping with Macau's historic levels of classiness.
Meanwhile, another example emerges of the Mainland's corrupted, twisted and deviant values. The correct reaction to news that Tokyo will host the 2020 Olympic Games is to laugh and see this as long-overdue revenge for the invasion, rape, looting and beheadings the Japanese inflicted on millions of innocent people throughout Asia during the 1930s-40s. Instead, Xinhua sees the money-wasting orgy of runners, jumpers, divers, officials, media, tourists, ugly stadiums and dimwitted mascots as somehow desirable and enviable, and out of perverted spite insists that the mess will take place in Istanbul.
On the subject of waste, Hong Kong continues to grapple with the issue of municipal refuse. With the Mid-Autumn Festival approaching, the Big Lychee needs to find some way of disposing of this year's estimated surplus of 39.8 million moon cakes. A group called Green Power are so worried

that they even seem to suggest that people who want to insincerely flatter family and friends with pointless gifts use shark fins rather than the traditional paste-and-yolk laden pastries. With our landfills already bursting, who can doubt the seriousness of this problem? But I think I have an answer, which came to me half-asleep while an environmentalist was voicing his distress on the radio this morning: load the things into a giant rocket and blast them into the infinity of space. It is amazing the flashes of inventive brilliance that sometimes hit us just as we awaken.