Hong Kong Financial Secretary John Tsang was destined to go down in history – in his own little way – as crafter of some of the more mediocre, indeed pointless,
budgets in the city's modern times. Year after year, he predicted deficits, booked and stashed away embarrassing surpluses, and handed out absurd subsidies in a lame attempt to divert our attention and make everyone happy. And he did it with that stomach-churning smugness that only British-trained bureaucrats can manage.
But then, grasping for a shred of sympathy from an ungrateful public one day, he pronounced himself middle class 'just like you', on the grounds that he drank coffee and watched interminable black-and-white French movies in which no-one says anything. And a meme was born. The Big Lychee's bourgeoisie was defined in terms of aspirational symbolism we could all relate to (though some people took it literally and disputed the idea). With a sprawling Gini coefficient, evaporating mid-range income brackets, and a society where everyone seems rich compared with the poor and everyone seems poor compared with the rich, it was good to have some sort of benchmark.
Now the Bauhinia Foundation, a think-tank dedicated to propagating the tycoon-bureaucrat agenda embraced by Tsang, proposes a more quantifiable approach,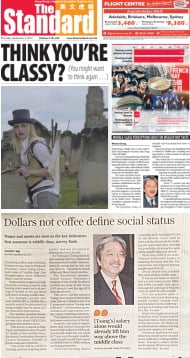 based on a public opinion survey. It's pretty predictable: to be 'middle class', you should own a property, earn a decent five-figure salary and have at least a million (Hong Kong) dollars invested. The Foundation's director, by his own admission, doesn't see much purpose in the exercise, but it's a godsend to the press, who can ask such luminaries as the leader of something called Voice of the Middle Class for their valuable and fascinating opinions.
But what about the people who should be middle class but, by this definition, aren't? People who have the education, intelligence, ambition and earning power, but who lack the material wealth owing to some circumstance beyond their control, such as (to pluck an example at random) atrocious government policies? The average HK$27,000-a-month type who must devote 44% of his spending to housing, or the couples who can't afford to have children? These are the mainstream middle-income people who, unlike the lucky (and probably older) ones who have already paid off their mortgages and have been able to save, are still working for the property tycoons – who, as it happens, fund the Bauhinia Foundation.
Conveniently, the survey found that the Hong Kong public didn't think culture, taste, connections and political/social awareness play much of a role in defining 'middle class'. It is true that plenty of working-class people in Hong Kong – 'grassroots' to use the official euphemism – are active in the pro-democracy cause. But the movement is, at its heart, at one with coffee and French cinema. Many of the 'middle class', as defined by political opposition to Hong Kong's social and economic structure, are probably people who are denied the right to be 'middle class', as defined by property ownership and savings, because of the cartel-running tycoons who shoe-shine Beijing so thoroughly. The Bauhinia Foundation would really rather not go there.