Some Hong Kong radicals painstakingly collect a modest amount of donations and buy some space in three newspapers to complain about the city's government. The ads would go relatively unnoticed. But then Chief Executive CY Leung comes to the rescue, denouncing both the message itself and the choice of media – and HK$50,000 worth of 'media spend' produces publicity worth millions.
The ads called for CY to stand down because he has failed to protect Hong Kong from the 'Mainlandizing' effects of mass immigration and tourism from across the border. And one of the newspapers carrying the message was a Taiwanese publication. The reaction shows that this is a combination of message and audience that strikes a very sensitive nerve.
The pro-democracy camp is by nature usually split. The latest division, which is still brewing, is over reform of the Big Lychee's political structure; should the pan-dems demand a wide-open nomination system for CE candidates, or should they accede to the Basic Law requirement for some sort of nomination committee? Internecine squabbles of this sort are a gift to the pro-establishment camp and – more to the point – the government itself. Mainlandization, on the other hand, could offer a flag for most of the pan-dems to rally round.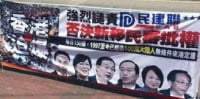 The issue could potentially be a major establishment weakness. Anti-Mainlandization banners are specifically blaming the pro-Beijing Democratic Alliance for the Betterment Etc of HK for the impacts of the one-way permit system (allowing 150 immigrants across the border per day) and the 'individual visit' scheme (allowing unlimited border crossings to many Mainlanders). CY Leung can truthfully say that he decisively ended the influx of Mainland mothers into Hong Kong, but he has done little or nothing to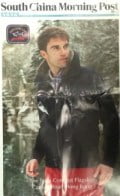 curb the crush of shoppers crowding into New Territories towns and downtown retail districts. (Today's South China Morning Post comes wrapped in a glossy cover proclaiming the arrival of some cretinous-sounding 'New Concept Flagship' in Tsimshatsui. The brand is one 'Paul & Shark – Yachting', apparently selling tatty-looking zip-up fleece-lined sweaters that might arguably suit 70-something males living in cold climates. The ad that so riles CY specifically mentions the explosion of such tatty retailers at the expense of everyone else in Hong Kong.)
Dragging Taiwan into it magnifies the effect. Taipei citizens are increasingly being suckered into seeing Mainland tourists as some sort of highly desirable gift (unlike Hong Kong, they do have a bit of space to put them in), and there is already controversy about things like the growing use of Mandarin and Pinyin. Hong Kong-as-warning-to-renegade-province is a nicely inflammatory message, guaranteed to piss off all the right people.
However, it won't happen. First of all, pro-democrats do not think this tactically or practically. Grabbing a real, hard livelihood issue and battering the establishment with it is – well, real and hard. It is so much more comfortable to sit and whine, and snipe at each other, about the most abstract and idealistic aspects of universal suffrage. Even the group that produced the ad have used it primarily to demand that CY stand down, rather than to skewer him with a view to forcing policy change.
Second, although the influx of Mainland shoppers is imposing fairly measurable costs on Hongkongers' economic and overall well-being, the bigger issue of Mainlandization is much vaguer and touches on some emotive and even unwholesome subjects. Some of the anti-DAB posters specifically mention the Mainland-kid-urinating-in-public phenomenon. Hurling abuse at 'locusts' and siding with nativists and self-described pro-independence activists leaves you open to allegations of disloyalty to the nation. Encouraging Taiwanese splittists doubly so. Picking on immigrants in any society can lead to bullying and other ugliness. In short, unless it is handled with finesse and discipline – and that'll be the day – the issue can be icky and potentially counter-productive.
Thirdly, the 700,000 Mainlanders who have come to Hong Kong since 1997 are steadily becoming qualified to vote. Maybe not many will be itching to support any of the rich range of pan-dem parties on offer, but who knows? Certainly, it won't make sense as time goes on to drive them further into the arms of the DAB.
More than political reform, Mainlandization is a weapon the pro-democrats could use to cause serious damage to the government, to their electoral rivals and, as a happy bonus, to some of our most parasitical commercial interests. But for all sorts of reasons, they can't or won't. Back to bickering about nomination committees.