Whoever is writing the script for the trial of Bo Xilai deserves an Academy Award for Best Half-Convincing, Interests-Satisfying Screenplay. He has to get the audience to believe that this is about corruption rather than a top-level power-struggle. He has to convey the impression that the corruption is millions-of-Yuan/son's-African-vacation serious, not billions-in-assets/people-tortured-to-death serious. He has to at least hint at the possibility that this is an exceptional case, but not so much as to strain credibility. He must write a half-sympathetic, alternative view into the plot to cater for Bo's extensive fan club of crotchety old poor people and demented leftists.  And he must make it look like it's not scripted, to the extent that a few onlookers might even scratch their heads and wonder if they are witnessing unprecedented transparency in China's joke judicial system. So far, he's done an excellent job.
Back in Hong Kong, where plundering of the public's wealth is legal and institutionalized, the South China Morning Post ponders the possibility that the sale of the Park N Shop supermarket chain could result in one player controlling over 50% of the market, thanks to our lack of serious competition laws. That would be the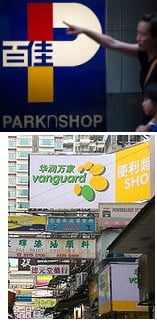 outcome if China Resources, who already have a chain of convenience stores here, were to buy Li Ka-shing's network of grocery emporia. The paper points out that fellow-duopolist Wellcome could in theory acquire its rival and gain a 75% market share with regulators' blessings.
The latest mutterings point to China Resources as the most likely buyer. Korean conglomerate Lotte seem to have backed out (shame – I was hoping for a better range of kimchi), seeing the price as too steep and/or the potential for growth in this small and mature market unattractive. China Resources recently relieved British chain Tesco of its Mainland network, and the two could combine to buy Park N Shop. It is a big state-owned Hong Kong-listed monolith, of the sort that on occasions make hasty or not especially well-considered investment decisions, especially overseas.
A certain amount of rashness could be important. There are two fairly good reasons for China Resources to buy Park N Shop. One, attractive to Aeon, Walmart and all potential bidders, is the fact that the chain is part of a duopoly, offering not only a half-captive market, but opportunities to boost efficiency in one of Hong Kong's many fat and lazy cartelized businesses. The other is that China Resources already has a big Mainland network of supermarkets, which some observers think offers real potential for synergies, presumably in areas like sourcing and distribution; some optimists also think China Resources lust after Park N Shop's management and branding expertise, and who are we to doubt it? (Investment bankers trying to get foreign retailers interested in ParkNShop are claiming that a foothold in Hong Kong will open the door to unimaginable expansion and riches in the Mainland – but they would, wouldn't they?)
The big downside is still that any buyer faces the nightmarish reality of Hong Kong rents. A lot of Park N Shop branches are in properties owned by Li Ka-shing, who is merciless enough on yield-per-square-foot even when he is renting to himself. Never underestimate a Hong Kong landlord's ability to squeeze every available drop of profitability from a tenant. It is possible that China Resources' political connections du jour would incentivize Li to do a sweetheart deal, but that sort of thing can work both ways; as it is, the company's big boss is facing allegations of jiggery-pokery.
One way out of the rent quandary is for the buyer to take a 50-60% stake and leave Li with a big enough holding to keep him a friendly landlord; to the extent that the Li family have and will keep their uber-tycoon status, with other businessmen and officials lining up to lick their toes, this could be a useful partnership in other ways. But that's from the buyer's point of view; if Li wanted to stay in slow-growing Hong Kong supermarkets, he wouldn't be selling. I declare the weekend open with the thought that it all depends on whether someone's dumb enough to stump up a whole US$4 billion (approx).