As the show trial of Bo Xilai gets underway, Hong Kong reels in shock at its own latest revelations about corruption and abuse of power in high places – a disgrace we shall hereby name Cathay-gate (or Airbus-gate, or maybe even Boarding-gate). The 'USP' of this particular outrage is that it does not involve any government ministers or sleazy members of the tycoon-politician Liberal Party-type caste. Instead, the villains are lawmakers who are either loyal, clean-living pro-Beijing patriots imbued with correct ideas about learning from the masses, or saintly and conscientious pro-democrats willing to make any sacrifice to further the cause of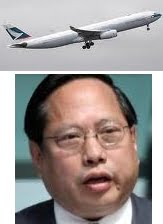 representative government by and for the people. Why, there's even a member of that nice sensible Professional Commons group in this list of infamy.
The scandal in brief: the legislators went on a dubious freebie to France on Cathay Pacific Airways, officially to hear briefings from aircraft supplier Airbus and to take part in the delivery of an A330-300. We are invited to believe that one of the world's leading international airlines really needs Democratic Party leader Albert Ho to help it inspect its 37th A330. But of course there were also visits to restaurants and chateaux. And some of the attendees brought family members – family members, it goes without saying, not usually being invited along on real business trips.
Inevitably, the phrase 'conflict of interest' is being hurled around. It is no secret that Cathay wants to keep potential budget ('value-based') competitor JetStar out of the local market (so people like you and me have to pay more for flights), and that it wants a third runway to be built at Hong Kong Airport (to be paid for, if we have any cash left, by people like you and me). Air transport is a money-losing industry on the whole, and Cathay Pacific relies on government officials accepting the idea that its well-being and Hong Kong's are intertwined. In short, if you were CX, you'd lobby politicians who are middle-of-the-road in terms of economic policy, too.
But how are the mighty fallen! Are we going to see Albert Ho loudly demanding that the Independent Commission Against Corruption investigate half the administration after this? Perhaps such muck-raking accusations will henceforth be confined to the more extreme revolutionary firebrands of the League of Social Democrats/People Power and the fragrant radical-chic figures of the Civic Party, none of whom were on Cathay's technical briefing/freebie/junket in Paris. (Maybe that was the whole idea!)
Meanwhile, the South China Morning Post notes the fading away of the flying red dragon that has sort-of symbolized the Big Lychee for the last 10 years or so. Instead, the city is embracing a new branding in the form of the extremely exciting 'Home HK' logo. The dragon rejoiced in the dazzling blood-scarlet and yellow tones of the national and Communist Party flag. The 'Home HK' logo, on the other hand, is green and purple. These hues are –I feel bound to point out – the colours of the Suffragette movement that fought 100 years ago for… universal suffrage.