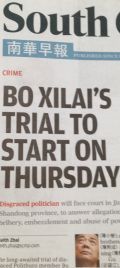 Euphemism, hype and spin welcome the reader to today's South China Morning Post. It's no different from most other days, or from most other newspapers, but for some reason today's proprietorial, editorial and journalistic sins all seem to leap from the pages shouting for attention.
Starting on page 1, we learn that disgraced former Politburo member Bo Xilai's trial starts on Thursday (and over by Friday lunchtime?). This is an area where the Hong Kong press could set the tone for broader international coverage. Indeed, it will be interesting to see how the world's media balance the official fiction and the barely knowable reality. They will be invited to see a show trial (the Standard, unlike the SCMP, mentions that the political elite write the script). They will be told the accused is an aberration, and that he committed a number of offenses involving particular other people and sums of money or assets, all neatly leading to a widely supposed suspended death sentence.
By way of background, the overseas press will regale readers, for the hundredth time, with the stories of evil wife Gu Kailai, tedious-sounding murdered foreign fixer Neil Heywood and the police chief who fled to the US Consulate. What we will probably not hear about is the full extent of the body count and the confiscated assets. How many gangsters/businessmen did Bo's Chongqing henchmen torture and/or kill? How many billions were stolen and granted to family and cronies or recycled into the municipal budget? And if one senior official can run his own kleptocratic, murderous fiefdom for years apparently unnoticed, how many more are there? And what are the repercussions for China and the world? If today's report is anything to go by, the SCMP doesn't look likely to be setting the pace on this.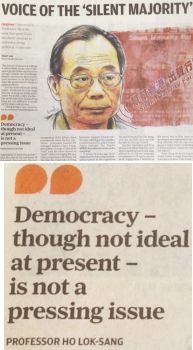 Over in the local news, the paper offers a half-page feature on Lingnan University Professor Ho Lok-sang, leading member of the 'Silent Majority', the United Front's latest and relatively wholesome-looking group against the pro-democracy Occupy Central movement. It is a portrait of a well-intentioned but timid – as in slightly petrified – hand-wringer.
The journeys that Hong Kong political and activist figures have taken from youthful idealism to their respective positions on the pro-Beijing-pro-Dem spectrum are guided by ambition, fear, greed, peer pressure and ideology (probably in that order). Pro-Beijing types are additionally influenced by vindictiveness, and pro-Dems by lust for martyrdom.
For an academic like Ho, the main considerations could be career and rivalry, but we are not told. All we learn is that his position is borderline namby-pamby. He would support Occupy Central, he says, if it adopted tactics that would have no impact. He accepts that Hong Kong has social problems but doesn't think they justify 'such a large-scale protest'. He once supported functional constituencies in the Legislative Council 'to use professional knowledge for Hong Kong's overall well-being', but now he doesn't. He believes in constitutionalism on the Mainland, but does not oppose one-party rule. This is so spineless you almost feel sorry for him.
The weirdest comment sounds like a mis-translation, but it can't be because it gets highlighted: 'Democracy – though not ideal at present – is not a pressing issue'. Is anything 'not ideal at present' pressing? Nothing springs to mind. Presumably it is a convoluted way of saying that Hong Kong's current political system is working wonderfully well, without having to acknowledge the unavoidable fact that it isn't.
We could go on (how about 'Let's stop arguing and pretend everything's nice', or 'OK, Shanghai is a no-hope dump after all'). But let's end with a touch of the exotic, as the SCMP reports how happy Hong Kong's first-ever batch of Bangladeshi house servants are. And why should they not be glad to be here? They come from a country where a factory worker gets HK$500-700 a month; some of them previously served as maids in various Middle East hellholes. One has even been given her own spoon! But, digging down into the story, behind the smiles, we learn that not everything is going well. After just a few months, 10 of the 50 Bangladesh-ettes have been fired – some no doubt with recruiting agents' debts to repay – after just a week or so (for reasons that remain mysterious). At this rate, the SCMP's story this time next year will be 'Last Bangladeshi domestic helper in town sacked'.