It is traditional, after Hong Kong shuts down as severe tropical weather passes, for our business leaders and great thinkers to complain that it's all a big fuss about nothing. This is the 21st Century, they say. People no longer live in wooden huts, go fishing on sampans, or travel by pony through flood-prone gullies – or whatever the big problem used to be. There is no reason why the majority of us shouldn't be able to make it into work when it gets windy enough to warrant the Number 8 signal. Others, notably bureaucrats petrified of being blamed for schoolchildren getting wet and other storm-related freak accidents, insist it is better to be safe than sorry. They would point, as an example, to Typhoon Utor, which hit the region over the last couple of days and tore a satellite dish off a building in To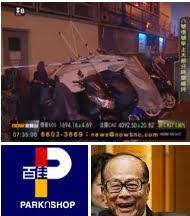 Kwa Wan. The rest of us, the 'small potatoes' cruelly forced to stay in bed yesterday morning, reluctantly accept the fact that we have no say in the matter.
So it is with the fate of ParkNShop, vendors of fine comestibles and household supplies to the gentry. Tycoon Li Ka-shing is offering his chain of supermarkets to the highest bidder, and big retailers from across the world are rumoured to be sniffing around. The good news for possible buyers is that the well-established brand with its extensive network of outlets should remain a steady producer of cash-flow. The bad news is that its chances of expansion are limited as the Hong Kong market is mature and saturated, and the company has arguably been mollycoddled from competition by duopoly and cartelization.
Another factor is the cost of space. There are signs that exorbitant rents are peaking as the Mainland shopper acquires more refined tastes, starts to prefer Europe, or lies low for fear of Beijing's anti-corruption inspectors. But it is hard to see retail space getting significantly cheaper for whoever owns ParkNShop in future. A stroll around one of its (or fellow duopolist Wellcome's) branches shows that a shop's number-one – and vicious – competitor is the landlord. The narrow aisles are even more crowded by stacks of products wedged strategically at the ends and elsewhere among the shelves. Even in locations owned by other parts of Li's empire, the supermarket manager is clearly possessed by an almost pathological urge to squeeze every last penny out of every last square inch of the premises (even to the extent that the congestion reduces customers' physical access to goods).
Bloomberg see rents as a possible problem for ParkNShop's post-Li owner. Potential buyers have to consider that the Hong Kong consumer's tolerance of cartelization is waning, as – quite probably – is the influence of the city's octogenarian tycoons. And they have to bear in mind that Li Ka-shing did not get where he is today by knowingly disposing of assets with attractive prospects. Furthermore, they have to accept that even after buying the brand from him, they will still, in many cases, find that he remains the landlord, expecting them to go on giving, month after month, long after the transaction is complete. He will essentially be selling the middleman, and carrying on scooping up his slice of the pie. Li on one side, Hong Kong consumer on the other: rock, hard place?