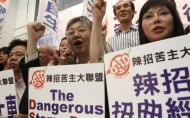 I am unable to write much today, being beside myself with grief on learning that up to 1.3 million of Hong Kong's real-estate agents might lose their jobs as a result of the government's measures to cool down the property market. The industry is asking sympathizers to sign a petition…
The alliance, led by Hong Kong Real Estate Agencies General Association chairwoman Chu Kin-lan, Centaline founder Shih Wing-ching, and Midland Realty's managing director Pierre Wong Tsz-wa, said people could leave their signatures at one of more than 4,000 shops.
Only 4,000! That means the other 237,084 branches of real-estate agencies won't be taking part – presumably because the poor staff, seeing their commissions plummet as fewer people trade concrete boxes – are too hungry and weak even to hold a clipboard and pen.
I have 4,000 shops to visit.