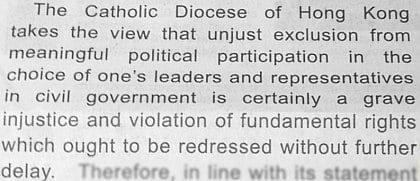 Christianity makes one – in fact, two – of its periodic entrances on Hong Kong's political stage. Besieged Development Secretary Paul Chan quotes of justice, mercy

and humility from the Bible, while the Catholic Diocese issues a statement calling for universal suffrage for the city and supporting Occupy Central.
Chan is teetering on the edge. Activists are demanding that he resign, and pro-democracy legislators have reported him to the Independent Commission Against Corruption in connection with his wife's family's land holding in an area slated for government purchase. He and thick-skinned Chief Executive CY Leung seem to calculate that with the outrage and mouth-frothing reaching saturation point, they might as well tough it out and show everyone who's boss. However, detractors are determined to inflict maximum pain. The pro-tycoon Standard's 'Mary Ma' editorial takes delight in probing obscure but sinister-sounding quasi-legal aspects of the affair. Ex-CE Donald Tsang's old buddy Albert Cheng says in the South China Morning Post that axing Chan would salvage the administration's credibility – knowing the exact opposite is probably truer. Maybe it will get to the point that Chan will stand down on the grounds that a replacement (if CY can find a third Secretary for Development) would be able to move more decisively on the housing plans for the Northeast New Territories, which is what this is all supposed to be about.
(Talking of obscure: Chan's quote was from the Book of Micah. The ancient Jewish prophet is best known for once ordering some furniture. When the tribe's carpenter delivered it to the seer's tent, a servant noticed the cheap-looking but easy-to-clean top on the newly made table and asked what it was, prompting the reply, "It's for Micah.")
The Diocesan Statement is written in flawless Catholic-ese, a dispassionate and logical sort of argument that confounds skeptical atheists and anti-papist believers alike. It cites the official Vatican line that all peoples should be allowed to elect their own governments, does a Saint Augustine-style job of defining conditions under which the Occupy Central plan for civil disobedience would be justified, and calls for universal suffrage, an end to functional constituencies and a truly democratic nomination system.
Vicar-General Michael Yeung tells the Standard that the Church will support Catholic students who get arrested if Occupy Central takes place. Despite the moderate tone, this is inflammatory and will seriously irritate the officials in Beijing's local Liaison Office. The Catholic Church educated a large portion of Hong Kong's elite, operates schools parents dream of getting their kids into, and generally has considerable clout. The government has some support among authoritarian/loopy fundamentalist Protestant types, and the pro-Beijing camp has the backing of a patriotic and interestingly materialistic Buddhist establishment; when it comes to public respectability, the Holy Romans could eat them all for breakfast.
Anson Chan, quoted along with the Vicar-General, calculates that legislation for political reform has to be in place by 2015, so it will be too late next year to launch a serious public consultation. Although CY and his governance guidance counselors in the Liaison Office have obviously been hoping to delay in order to ram something through late in the day, the Paul Chan's-wife's-family's-land-shock-horror-disaster might change their minds. Dragging democracy out into the open to divert attention away from CY's latest calamity sounds a bit extreme, but the way things are going it might be tempting. It would be proof, yet again, that the Almighty moves in mysterious ways.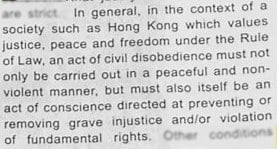 I declare the weekend open with a special, exclusive picture of a youthful Financial Secretary John Tsang showing impressionable young people how to decapitate disrespectful property tycoons…