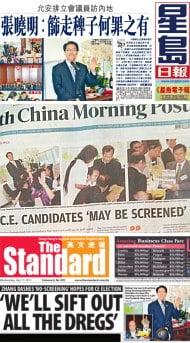 Hong Kong's Lunch of the Century between legislators and Beijing's top local emissary went pretty smoothly. Radical lawmakers resisted the temptation to indulge in theatrics – not surprisingly, given that Liaison Office Director Zhang Xiaoming's decision to sit with unpatriotic dissidents is a sign of weakness and fear. The pro-dems' threatened Occupy Central campaign of civil disobedience is clearly spooking Chinese officials. Indeed, Zhang's stern warnings about the dire consequences of a downtown sit-in suggested that the cadres can't get their heads around the concept.
His comments on screening out unacceptable candidates in the 2017 Chief Executive election sounded more self-assured. There is no point in pretending that the Communist Party can allow just anyone onto the ballot, and it is best to manage Hong Kong people's expectations from the start. His references to national sovereignty and security and 'Hong Kong is not a country' are codes: a one-party state cannot allow a rival source of political power, so what pro-dems term 'genuine democracy' can't happen.
Some pro-Beijing lawmakers are urging people not to take the sieving/sifting imagery too seriously. Quite a few milder members of the loyalist camp are laid-back about an open, or fairly-open, ballot. They know that a rigged system means an administration with no mandate, which means more of the current crap. They also know that Hong Kong won't vote for a candidate to whom Beijing is hostile.
But the Communist Party, with its Leninist and paranoid mindset, only understands control. Its instinct is to decide who will win the election first, and work back from there. The trick will be to make the electorate think they made the choice, and that means picking in advance someone they will support. That's where the fun begins. Even if an overt Communist loyalist were publicly acceptable, they lack policy and political substance. Forget anyone from the tycoon caste. Other business and other co-opted establishment insiders tend to be lightweights (it's almost a prerequisite). When they call it a 'shortlist', they won't be kidding.
With Beijing curiously – indeed, amusingly – disturbed by the prospect of Occupy Central, the pro-dems have some real leverage. What will they now do with it? They could demand truly representative government and an end to rule-by-vested-interests, in which case they bring broad public opinion along with them. Or they could get fixated about demanding that there be no screening mechanism whatsoever as a matter of principle, in which case popular enthusiasm could wane. Or, of course, they might be divided along pragmatic and purist lines.
What we can be sure of is that as Beijing conducts its search for Mr (or Ms) Right-for-2017, it won't consider any of the existing pan-democrat figures; nor will the overall public either want or expect them to; most amazing of all – much as they might insist on being allowed on the ballot – assuming the responsibilities of high office will be the last thing on any of the pro-dems' minds as well.
Over at the front page of the South China Morning Post: a slight captions booboo, with two different Liaison Office guys both identified as Zhang Xiaoming (the one on the left)…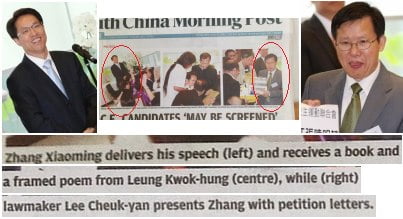 This just in: Bo Bo, the Customs and Excise Department's killer milk-powder-sniffer hound, poses with the latest edition of the government's glossy PR-and-stats manual, Hong Kong 2012. Fans of book-loving public-sector dogs will find similar delights here.