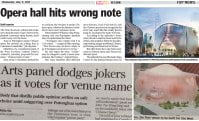 Hong Kong awakens to a little victory for common sense and good taste over political correctness and obdurate bureaucratic stupidity. One of the vast concrete-pouring projects over at the West Kowloon Mega-White-Elephant Arts and Culture Themed Zone Concept Hub is a thing given the English title 'Xiqu Centre'. Even pronounced correctly in Putonghua, it sort-of sounds like a Cantonese reference to genitalia. But with even RTHK Radio 3's newsreaders unable to get their heads around Pinyin, what are the chances of English-speaking tourists and others blurting out the sneeze-like word ('shee-choo', very roughly) accurately? And even then, what does it mean? Is Xiqu: a) That martial art where fake monks break bricks with their heads? b) That stringed musical instrument that makes a pentatonic tinkle-tinkle sound? Or c) Chinese Opera?
Some genius worthy of a Nobel Prize has now suggested 'Chinese Opera Centre'. Amazingly, they're going with it.
Meanwhile, on the South China Morning Post's letters page, senior Hutchison executive Frank Sixt complains about people criticizing Hong Kong's billionaire tycoons, like his big boss, Li Ka-shing. Writing as director of the Li Ka-shing Foundation, he movingly describes the property mogul's deep concern about the Big Lychee's less fortunate…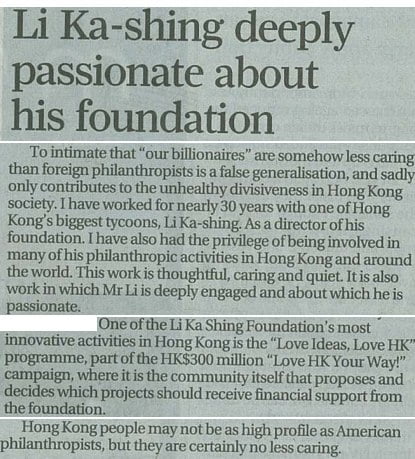 Maybe someone out there, mindful of the unhealthy divisiveness in Hong Kong society, will buy it. Columnist Michael Chugani gets in an instant response by demanding that the tycoons dip into their unused land reserves to help solve the city's housing problems.
A suitably stern riposte to the letter would make the point that Hong Kong's tycoons have not (unlike their American contemporaries) made their vast fortunes through innovation or other value-creation, but by ripping off consumers via cartels. Their companies and subsidiaries are parasites on the economy, extracting wealth in the form – for example – of 20-year mortgages families must pay on tiny, shoddy apartments. The donations they make to charity look big, but compared with the amounts they have skimmed off the economy over the decades, they are drops in the ocean. If such donations were (say) 10 times bigger, they might qualify as guilt-money; as it is, they are PR stunts, calculated, with increasing desperation, to ward off demands for reforms to create a more level, less feudal, capitalist economy where players have to compete. Like in Shanghai.
Sixt would be more convincing if he just pointed out that the tycoons have done nothing illegal: the Hong Kong government allows cartels and collusion.
As for tycoons 'caring', try opening a basic social-enterprise supermarket to help the low-paid that undercuts Park N Shop and see what happens.
Another Nobel Prize test… Hardly anybody likes Chinese Opera, therefore you should: a) Build a HK$2.7 billion Chinese Opera Centre; b) Don't build a HK$2.7 billion Chinese Opera Centre.