Much wailing and gnashing of teeth recently over HSBC's new ATM cards, which have a super-micro-digital-blah-blah chip in addition to the old-style, less-secure magnetic strip. When I received mine a few months back, I noted that the accompanying letter mentioned that I had to activate (or authenticate, or authorize or whatever) the card via an ATM in some way before using it overseas. The impression I got in my short-attention-span way was that the simple act of using it in a local ATM would accomplish this.
While using a different bank's new-style card recently, I noticed the ATM screen offered an 'activate' (or whatever) function. So I did it, and then came away with the impression that I had in fact de-activated the thing – so I repeated that process to undo it. I think. The normally chatty ATM ("Please take your card! Please take your cash!") was silent, presumably out of shame.
So: have I activated the card(s) or not? I rarely have the patience to queue at HSBC's overcrowded ATMs, and when I do pull cash out from one, I'm not pondering the mysteries of 'activation'. Have the legions of angry HSBC customers complaining that their cards don't work overseas brought the problem on themselves by not having the telepathic powers necessary to follow HSBC's directions?
There is a second element to this fiasco/non-fiasco (as it may be). When I got my new card, I also noticed the little UnionPay logo on the back. I don't recall ever really noticing this anywhere before (although the design is in every shop, it is so weak that it merges into the surroundings). Now it jumped out at me as simply not belonging on my very own, new, shiny bit of plastic. I

immediately felt repulsed by the brand; it triggered something subliminal in my mind saying 'this is cheap, this is shoddy, this is low-class, it's a piece of crap, it's something to do with some backward, corrupt, nepotistic, state-owned monolithic Mainland disaster of a company'. Who would ever imagine that a never-consciously-seen logo could provoke such strong feelings in such vivid detail?
Many of the people complaining that they cannot withdraw cash overseas, like the recent South China Morning Post letter-writer who was in Brazil, blame the Mainland-owned UnionPay network, with which HSBC has replaced the previous Plus settlement system. (Conspiracy theorists, and no doubt a lot of level-headed folk who have seen far too many non-Mainland companies shoot themselves in the foot in attempts to please Beijing, see HSBC as playing politics at customers' expense.)
All this is of interest to me, as next month I will be spending a few days in an unremarkable suburb in the capital city of an exotic – as in 'not terribly advanced' – corner of Asia.
To prepare for this trip, I went to the airline's website and started punching in flights, dates, my phone number, and a hotel address (false, but it insisted on one), and then filled in my credit card details. I knew what was going to happen next, because it has happened before on the rare occasions I've tried to book a flight or hotel online. This time I had the presence of mind to get a picture of the screen before it timed out…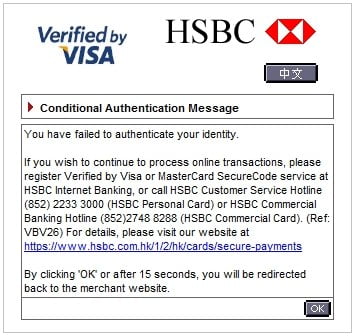 I don't get this when I buy books from Amazon or pay by credit card in person; just with travel arrangements. So of course I took immediate remedial action*: I emailed a friendly and helpful human travel agent, who – unlike the website – patiently let me prevaricate between taking a morning or afternoon flight, and kindly reminded me about visa requirements. The one thing she has in common with the website is that she won't take my credit card, so I transferred the funds into the travel agency's account – something too difficult for hotels/airlines to do online, apparently. (I could wonder whether this has something to do with the magic, code-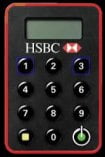 generating black box number-pad used for on-line banking, but life is too short.)
Anyway, the really cool bit: the ticket from the travel agency is a bit cheaper.
So we have moved back from using credit cards online to directly manually transferring funds into accounts online. And when I go off to this Indochinese Hicksville, I will be taking a bundle of Ben Bernanke's finest paper fiat-currency US Dollars. An HSBC card might have worked there once, but now – who knows? (My other bank, a blatant shoe-shiner of its Mainland counterparts, is also on UnionPay.)

Of course, if  consumers could switch banks as easily as buying beer from 7-Eleven instead of Circle K, none of this would be happening. Instead, we have progress, HSBC-style. My travel agent, being ahead of the curve where such trends are concerned, also takes cheques and is preparing to migrate to Babylonian clay accounting tablets.
*Phone the numbers in the 'Conditional Authentication Blah Blah' box? Me? I don't even phone people I like – I'm certainly not going to call people who irritate me.