An op-ed in the South China Morning Post a few weeks ago called for a freeze in the number of tourists arriving in Hong Kong, and an end to the provision of land or public funds for facilities catering to outsiders rather than to the local population. China Daily has had two columns this week (so far) blaming tourism for poverty and the city's overall malaise. Our officials, meanwhile, see the imminent opening of the vast, publicly subsidized, HK$7 billion cruise terminal at Kai Tak as something we are supposed to cheer. Aside from a Tourism Board many people love to hate, we have an entire government department trying to cram yet more overseas guests into our streets.
The obvious reason for the bureaucrats' obsession with boosting tourist numbers even as the city is clearly reaching its maximum capacity is plain obtuseness. Our officials try to boost tourism year after year for much the same reason an inbred, mentally retarded inmate in an insane asylum rocks backwards and forwards for months on end: it's wired in, and they aren't even aware that they're doing it.
A more pernicious explanation would be that our policymakers are in cahoots with vested interests. The main beneficiaries of our tourism industry are commercial landlords. The sector is therefore essentially a subset of the tycoon-run property cartel that, with the all-too obvious blessing of policymakers, controls housing, retail, distribution, transport, energy, construction and … is there anything I've missed?
Either way, experience has shown that the people of Hong Kong can bend the powers-that-be to their will if they are sufficiently roused. From an administrative point of view, cutting the tourism menace down to size is simple: you slap a 50% tax on luxury goods, with a promise to reduce it in tandem with similar levies as they are lowered on the Mainland. (Such a move damages our reputation as a shopper's paradise? That's the whole idea. Abercrombie & Fitch's Pedder Building branch folds under the weight of its HK$7 million-a-month rent? That's the whole idea.)
The problem is convincing the government to reverse its avidly pro-tourism stance.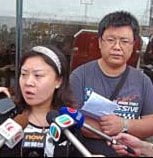 Making a pair of visitors wait two hours for their bus so they freak out is a start. I myself have broken the deeply ingrained habits of a lifetime and started to be less than polite when physically moving tourist-obstructions staring at maps out of my way when they block my path. Although I am happy with the idea in theory, I still can't quite bring myself to give visitors deliberately bad directions, like putting them on the number 112 to So Uk Estate when they want to go to Stanley Market. I was too well brought up.
While I ponder 'the way forward' (a 'Re-Occupy Central' movement?), I have an interesting task. I've got to (because my neighbours are too distant or senile to do it) call Richfield Realty to demand that they come over and fix the empty, leaky-when-raining apartment they own in my block. They buy up units in old buildings with a view to eventually knocking them down for redevelopment (by their buddies Henderson Land). The twist is that they are (allegedly) scum and have a reputation (allegedly) for deliberately causing problems like leaks in buildings in order to drive other owners out.