Hong Kong lawmakers oppose quake aid; Hongkongers reject sending aid; Sichuan relief efforts provoke Hong Kong skeptics. The Big Lychee's response to the Lushan earthquake does not leave the city looking like a shining beacon of generosity.
The government's initial decision to send Sichuan Province HK$100 million for disaster relief was, on the face of it, unexceptional. The city sent HK$9 billion after the much bigger 2008 earthquake and has donated funds following other calamities in China and in Southeast Asia. But there was something a little bit pat, a little bit presumptuous, and a little bit insincere about senior officials' blather about love and care for compatriots. It was almost as if this wasn't about helping villagers who had lost everything, and not even about exploiting a tragedy to show Beijing how loyal and generous we are; it seemed uncomfortably like the cynical grabbing of an opportunity to send a message to the locust-suffering Hong Kong people: we are all happy smiling Mainlanders now, or at least let's pretend we are, and then we will learn how to be for real, and it'll feel great. (Something like that.)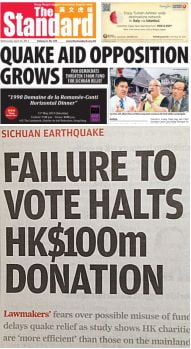 The pro-Beijing members of the Legislative Council's Finance Committee yesterday supported the proposal for the usual reasons: blind obedience for the hardcore pro-Communist loyalists, and shoe-shining self-preservation for the fake patriots of the business community.
The pan-democrats who opposed the measure proclaimed themselves to care deeply about the victims in the rubble in Ya'an. But, they insisted, the money shouldn't go to Mainland officials, who will probably steal it; instead, it should go to non-government organizations. It all sounds perfectly sensible. But it's hard not to get the feeling that, here too, there is more opportunism than principle. They could have come up with more detailed alternatives to a straight cash transfer to the Provincial government. But no – as a chance to highlight the rottenness and inhumanity of the one-party state, it's too good to pass up.
Then we get to the real story: the public mood. Last time around, there were heart-wrenching photos of kids' bodies covered in dust and we sent money to rebuild a collapsed school for ethnic minorities and then the new building was knocked down to make way for some luxury development. Now they want more? (Actually, no-one up there has asked; the Standard's 'Mary Ma' editorial cheekily suggests that Sichuan's Party Secretary phone up CY and ask him not to bother sending anything as it's too much hassle.)
Hongkongers are not in the mood to give. And it seems it's not just hostility to Mainland officials who skim off funds to spend on Chow Tai Fook gold necklaces. We could donate via trustworthy local charities, but no we're not going to. We're really sorry about that baby found under her mother's corpse in a collapsed house now being breast-fed by a neighbour until help arrives, but, um…
What about our unaffordable apartment prices and all the tourists?
The cost of housing and the influx of tourists have made us so pissed off – pissed off with Mainland-this, Mainland-that – that we just don't care. A hundred thousand bereaved and hungry survivors huddled shivering under trees? To hell with them. Serves them right for buying up all that baby milk powder.
Such callousness is hard to believe. The Global Times reports the South China Morning Post's poll (92% against the government's planned donation) without quoting some academic demanding that all Hongkongers be sent off to reeducation camps. Instead, they lament the graft in the Mainland. The Global Times agrees with us.
This is simply Hong Kong's legendary pragmatism at work (plus a chance to irritate compatriot-hugging local leaders). After all, no-one seriously withholds aid for earthquake victims to protest against overcrowding on the MTR. Corrupt Mainland officials killed thousands in 2008 by building shoddy schools. They will kill more this time by diverting our funds from the injured and hungry. Let's just cut out the middle man.