When bureaucracies are not using it to crucify harmless nonentities to justify their existence, the criminal justice system is a reliable source of entertainment. Hong Kong today settles down into its easy chair to watch two juicy cases unfold: the trial of feng-shui master/born-again Christian/Nina Wang toyboy Tony/Peter Chan

for forging a will, and the proceedings against civil servants Mak Chai-kwong and Tsang King-man, who are charged with defrauding the government of housing allowances.
The former production is a fantasy in full Technicolor and stereo, while the latter is more of a morality tale, strictly monochrome with no special effects. In both cases, viewers will be licking their lips in anticipation of the final outcomes: punishments – preferably severe and devoid of any shred of mercy. The harsher, the better. It's not anything as high-minded as blind retribution; we just want to see them suffer for the pure pleasure of it. Life just hasn't been the same since they abolished public executions.
Not long ago, Tony Chan was a cheeky ex-bartender who had apparently inveigled his way into the heart and bank account of a flamboyant but dying billionaire widow. He backed up the unconvincing will he said she wrote in his favour with stories of massaging the lady, leading her through quaint-sounding voodoo rituals and otherwise servicing her. The lurid multiplicity of audacities, breaking taboos especially of socio-economic caste, were described with a gleaming grin that just screamed Wipe Me Off This Face.  
The gods have duly delivered, and the private jet, gwailo bodyguards and sprawling palaces have crumpled to dust. The simple Chan family, moon-faced with bewilderment, face vengeance beyond their capacity to measure, and that's before we even count Tony/Peter's astronomical tax bill.
The CK Mak/KM Tsang case is at the other end of the scale. Whereas Tony Chan was an upstart blundering into the loopier fringes of the Big Lychee's high society, these two guys were born to serve the community by ruling over it, going by the colonial book, not taking any risks or having new ideas, ensuring the smooth and efficient administration of the city in the finest traditions of the world's most brilliant, infallible and modest civil service.
Their alleged crime is – inevitably – one of paperwork and property. They bought an apartment each and then rented them to each other to qualify for government housing allowances. By way of mitigation, we could plead that the loophole was so glaring it looked almost legit; legions of other public-sector staff apparently did it; this was in the days before civil servants became as grotesquely overpaid as they were by the late 1990s; and by some accounts, more flexible housing arrangements in the private sector induced otherwise decent bureaucrats into a sense of entitlement. Oh, and the whole thing came to light within days of CK Mak's appointment as Chief Executive CY Leung's Development Secretary – raising the distinct possibility that the revelation was a time-bomb set off by supporters of the Donald Tsang/Henry Tang/tycoon/bureaucracy establishment.
Looking around, do we see any fellow members of the audience musing over these things, and wondering whether the system should go easy on the perpetrators of this rather lame HK$700,000 mishap?
Nope.
Oh, there are one or two right over there in the corner who seem to be muttering a bit of sympathy: really, be honest – who wouldn't have done the same thing in their position, know what I mean, right?
Can I be the first to suggest that any serving or former public servants who defend these two on grounds either practical or principled probably took advantage of the scam themselves? I can? Cool.
Vivid comic tragedy and sober parable – a nice balance. Let the entertainment commence.
While we're on the topic, following some mention of Elsie Tu's part in a long-ago mystery about a cop who somehow shot himself with five rounds, these two guys…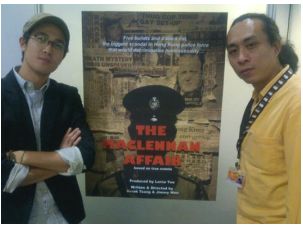 …were last seen trying to raise financing for the movie.