One of the Hongkong International Terminals contractors abruptly announces that it is shutting down, leaving hundreds of its striking port workers without an employer. The tactic is clearly designed to scare the strikers into accepting the pay offer currently on the table. The supposedly laid-off dockers say their skills make them irreplaceable. We all like to think we are.
Business seems to be accommodating any delays at the port with few problems, and shipments can always go through Shenzhen's container terminals, which of course are also partly owned by HIL owner tycoon Li Ka-shing. So the employers clearly have the upper hand. The crane operators and stevedores, on the other hand, can claim to have a good case, and visiting Australian dock workers were shocked at their Hong Kong counterparts' relatively poor pay and conditions. In an effort to exploit public opinion, strikers and their supporters have set up camp outside Li's headquarters in Hong Kong's central business district.
The Chinese Communist Party's Ta Kung Pao sees this as a test-run for the pro-democracy camp's Occupy Central campaign for universal suffrage. The pro-Beijing camp is understandably nervous about a potential alliance between labour, activist pro-dems and the usually passive and agnostic broader public, some of whom are happily donating cash to the strikers now conveniently situated at the end of Queens Road. If a few thousand people assembled outside Cheung Kong Center for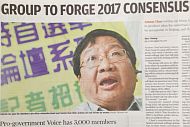 a continuous National Education-style protest against Li's property hegemony, it could cause a real shock to the system. Where would it leave the pro-Beijing Voice of Loving HK, now insisting on its credibility as a self-funded movement of common folk who support the status quo? In the same place it would leave Beijing and all its local lieutenants: forced more and more into a position where they side with plutocrats against the other 99%.
Fortunately for them, it almost certainly won't happen. In a pointed analysis in Ming Pao, HK Polytechnic University's Professor Pun Ngai complains that the pro-dems themselves will undermine any such alignment. As she puts it, they are into political democracy but not economic democracy; their worldview is so 'conservative' that they stay inside their own little bubble while broader civil society grows up in response to inequality, property hegemony and issues like heritage and infrastructure. The CTU labour federation supporting the dock workers is part of the pro-democracy milieu, but the pan-dems as a camp show little interest in grasping the opportunity that Ta Kung Pao sees.
A Marxist interpretation might be that this is simple class loyalties at work: the home-owning professionals of the Democratic and Civic Parties occupy privileged perches in the upper percentiles of our grotesquely distorted distribution of wealth. (The Aussie dockers must be on well over double their Hong Kong counterparts' take-home pay – and for far fewer hours a month – yet Hong Kong has a higher per-capita GDP.) But if the pro-dems saw it that way, they wouldn't be in politics; they'd join the Voice of Loving HK, and kick out its clerical-staff and small-trader useful idiots. We can only conclude, not for the first time, that they are in love with being an opposition without a hope.