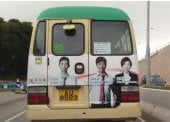 Whatever happened to former Security Secretary Regina Ip's New People's Party? One minute they were poised to become the silent-majority, sensible-centrist, ultra-moderate, middle-class answer to the trouble-making, unpatriotic radical chic of the Civic Party. The next minute they've faded into obscurity. But wait! Here they are, advertised on a minibus to remind us that they are still around, and that there is more to them than their dominatrix leader and her plutocrat-with-a-conscience sidekick Michael Tien. 
Out of curiosity, I have to investigate Legward Wong. (Mock not: it's a real, if obscure, Anglo family line, not a clunky transliteration of his given name, which is Cheuk-kin.) The popular belief is that Regina acquired her young followers at Stanford University and through her Savantas 'think-tank' and thus, it loosely follows, they are probably a bunch of vaguely well-intentioned losers on the make. As opposed to the trendy, youthful idealists manning the pro-democracy barricades, and the trainee-despot patriot-thugs obediently tending the grassroots for the Democratic Alliance for the Betterment Etc of HK and similar true Leftist groups.
To get straight to the point, Legward is less uncool than you might expect, at least for a former 'Hong Kong Spirit Ambassador' and winner of an ATV 'Loving Heart' award. I mean: Bioengineering. And he was in Sweden, no less, practicing prosthetics and orthotics. (Whaddya mean, what is it? It's the design, manufacture and application of orthoses – of course.) And he's pretty serious about making life better for the elderly, which is one of those subjects that are desperately important but way too icky for most of us to want to even think about.
What's this leading to? It's to put things in context. Parts of the pro-Beijing camp are gearing up for the coming clash with the pro-democracy, Occupy Central, True Universal Suffrage movement. Former Secretary for Justice Elsie Leung offers a (surely superfluous) warning that the Chinese government would intervene if Hong Kong elected a counter-revolutionary splittist as Chief Executive. More entertainingly, Polytechnic U's WK Chan accuses Occupy Central visionary Professor Benny Tai of trying to screen out people who don't share his belief in the Anglo-American democracy that is collapsing in on itself in the Western World as we speak.
The charge that the people fighting a filtering mechanism for candidates in the 2017 CE election are filtering out opposing views sort of sticks, though both sides in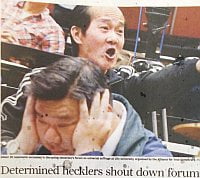 this looming clash are equally guilty. The 'Voice of Loving HK' and 'Protect Central' folk who shouted (and ultimately shut) down yesterday's Alliance for True Democracy meeting could truthfully complain that the 'British dog' organizers hadn't invited them, even if the Alliance had grandly requested the presence of National People's Congress sub-chairman Qiao Xiaoyang. Conversely, if the pro-Beijing groups were to hold a gathering, they wouldn't ask the pro-dems to come along. (Compare the two sides. Each regards the other as puppets. Both can be embarrassing; the pro-Beijing rabble yesterday played into the pan-dems' hands by silencing the event with their venom. The gap between them is cultural; Hong Kong is the city where East most definitely does not meet West, except to heckle.)
If Beijing is to implement political reform in Hong Kong for 2017, it will have to split the pro-dems. It would not hurt if at the same time it distanced itself from the more mouth-frothing, hate-spewing elements in its own camp and relied more upon the relatively cuddly moderates who give the United Front a human face. So we might be seeing a bit more of the Legwards, Clarices and Huberts. (Hubert – University of Woolongong and… fashion design. Obviously.)