Three stories combine to form an exquisite microcosm of Hong Kong today.
First, the whole range of opposition figures and organizations – from stale old moderates to fiery young radicals – form an alliance to push for full universal suffrage. By this time next year, the group will be ripe for schism, as Beijing offers a 2017 election proposal that wins grudging public support for being the first real step forward since 1997, even if far from genuine, elect-anyone-you-want democracy. It could even be that parties themselves will split; it is hard to see lawmaker Emily Lau compromising on anything, while her Democratic Party colleague Albert Ho might break down if Beijing's local officials ask him round for a cup of tea nicely enough.

Of course, if the Central People's Government reverts to obstinate-paranoid-temper-tantrum mode, it will hand public opinion to the Alliance on a plate. Assuming Beijing will be smarter than that, the pro-dems' only hope is to have some fresh electable charisma suddenly rise up from nowhere and shine through the grey, depressing miasma of the current line-up. (Imagine, if it is possible, a Hong Kong pan-democrat version of the moribund US Republican Party's sudden new great black saviour Benjamin Carson.)
Second, the government launches a public engagement exercise on land supply strategy. We can assume that the difference between a public 'engagement' and a public 'consultation' is that in the case of the former, officials don't bother pretending to want to learn what the people think.
There are several possible ways of looking at this. One is that the administrative and political barriers to accessing Hong Kong's reasonable supply of God-made,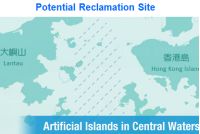 ground-level space are for all practical purposes insurmountable. Therefore, in order to free up land for homes, we need to relocate commercial and infrastructural facilities onto reclamations and underground. Another is that this is another scam for the bureaucracy-construction complex, to keep the billions flowing as wasteful projects like the Zhuhai Bridge and the Big Hole to Shenzhen wind down. A third is that this is a shock tactic designed to soften people up for the unpleasantness necessary to open up traditional sources of land. The strange dashed-lines-in-the-sea map suggests someone is not totally serious about something. You be the judge.
Third, the 84-year-old mother of pro-Beijing barrister and Chinese People's Political Consultative Conference member Alan Hoo holds a press conference to denounce her offspring as a very naughty boy who, among other things, has locked her out of her home and won't talk when she

phones. Former radio personality and convict and would-be legislator Pamela Pak wipes the tears from her eyes – but that probably goes without saying. Hoo thus joins the lengthy list of embarrassing brutes and delinquents who somehow turn up on China's national political bodies. (Can anyone imagine a pro-democrat casting their aging parent out onto the street? Simply unthinkable.)
The background to this caddish behaviour is something to do with the old lady's failure to attend Hoo's third wedding 'because his second divorce had cost her a lot of money'. The South China Morning Post categorizes the story as 'Family'; presumably 'Lurid, exploitative, prurient tripe about semi-celebrities' wouldn't fit. We get such a saga every year, on average. Late pop singer Anita Mui's shoe-hurling mother and late tycoon Nina Wang's father-in-law similarly complained about disgraceful lapses in the financial aspects of the younger generation's filial piety.
The SCMP mentions that Hoo's first wife was actress Flora Cheong-Leen. She is, of course, the daughter of Hilton Cheong-Leen, a legislator and civic figure from many, many moons ago. And to prove that the weekend is being declared open by cosmic forces from the fifth dimension, a missive from him appears just a few pages away in the Letters to the Editor. It is very, very long, and several repeated readings of it reveal that it manages to say absolutely nothing.