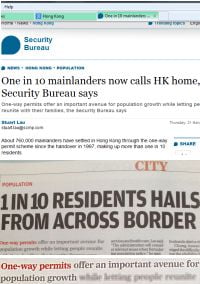 One in 10 Mainlanders, the online South China Morning Post was saying this morning, calls Hong Kong home. That would be some 130 million of them. Looking around Causeway Bay, some might say that sounds about right; the key word of course is 'home', which does not mean 'source of tax-free junk and non-poisonous baby food'. The print edition, to my great disappointment, gets it right. Hong Kong has taken in 762,044 people from north of the border since the handover. This arises from a Legislative Council question asked by the Democratic Party's Sin Chung-kai about the One-Way Permit system.
Two things jump out from the Security Bureau's response. First, the government sees family-reunion immigration from the Mainland as 'among the important sources of population growth in Hong Kong'. This raises a basic philosophical question: why do we need an ever-rising number of people? The government would usually blather on about the ageing population, but it can't on this occasion because many of the family-reunion permits go to 'overage children', many of whom are middle-aged by now and thus adding to the dreaded demographic disaster we are constantly being told to expect. But to repeat: why, in a city that seems institutionally incapable of finding and allocating even a bare minimum of living space for existing residents, are we supposed to want a growing population?
Second, the official response says there are no 'justifications or needs' to (in effect) change the system whereby Mainland, not Hong Kong, authorities decide who gets the permit and when. Off the top of my head, I can think of three 'justifications or needs': suspicions that the Mainland authorities are corrupt in handling applications; suspicions that priority goes to Communist Party loyalists to bolster the local United Front presence and pro-Beijing voter base; we're getting people with low skills who potentially burden the rest of society. And that's just before breakfast.
On an infinitely more positive, indeed joyful, note: real-estate agency branches are at last starting to close, and the spotty, spiky-haired intermediaries who molest passers-by with developers' glossy brochures are being rounded up, loaded onto cattle trucks and sent off to be recycled into something socially useful and biodegradable. The Standard, a friend of the property tycoons and the real-estate firms that do much of their dirty work, buys the story that agents' headcounts are not falling. The collapse in transactions says otherwise.
Correction 1: Considering many property agents' apparent extreme unsuitability for economically productive work, Mainlanders migrating to Hong Kong under the One-Way Permit scheme are probably boosting our overall human talent levels after all.
Correction 2: The waving of property developers' glossy brochures no longer takes place. A developer is complying with new regulations on disclosure of information by producing 1,500-page, 10-kg, 11-cm-thick documents. My first reaction on seeing this story was 'I bet those lousy bastards at Sun Hung Kai are doing this as part of a temper tantrum at no longer being legally allowed to cheat consumers over apartment size'. I swiftly slapped myself out of shame for thinking such a despicable thought.
But then… just a couple of paragraphs into the story, and already there are two people quoted as thinking along much the same lines. How could such wanton cynicism become so widespread?
The brochure that's bigger than an IPO prospectus concerns a development called the Riva, out in sunny Yuen Long. Obviously, it's still being built, so suckers thinking of buying can only go and see the 'show flat'…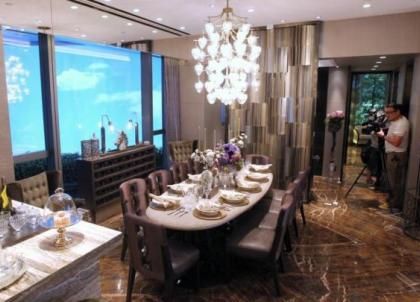 Ignore the grotesque chandelier, which is actually quite tasteful by developers' standards. Note the sideboard, possibly intended to look like a wine bottle cabinet, by the window with the fake blue sky outside. Can it be any more than six inches deep? Note the chairs on either side of it, similarly almost too small to be of any real use. And then of course, the diminutive dining table at which eight people could not possibly have a meal together; even with Snow White sitting at the end, the seven dwarves wouldn't have enough elbow room.
The idea, of course, is to make the area look bigger than it really is. And to think there's a couple of cozy, 60-square-foot cells at Stanley Prison that just might possibly have Thomas and Raymond Kwok's names on them…