The rise and fall of Tony Chan seems to be about 80% complete now. It would be tempting to see the saga as a metaphor for something, but it seems to be no more than a simple morality tale: a warning of what happens when someone born to be a bartender gets ideas massively above his station.
How he reinvented himself as a feng-shui master, and how he inveigled his way into eccentric billionaire widow Nina Wang's affections and chequebook is mercifully a bit murky. What they got up to is more graphic and stomach-churning: geomantic rituals connected with Nina's kidnapped-presumed-dead husband Teddy; transfers of vast sums of cash; sex (please spare us the details); the naming of his son 'Wealthee'. Then at last comes the bit we had all been waiting for: the inevitable downfall, starting with court proceedings, which Chan attended accompanied by dim-looking Western bodyguards and a ludicrous grin just begging to be wiped off his face with maximum prejudice.
Nina's will leaving him her billions was – inevitably – forged. That alone is a serious offence. Then the Inland Revenue came round sniffing after a slice of the billions Nina had paid him for the voodoo sessions. To our understandable glee, the private jet had to go, as did the grin – goodbye Lear, goodbye leer! From what we could see, Chan's impassive, moon-faced wife slowly started to realize deep down in her perhaps less-than-perceptive mind that this whole thing was not a dream but really happening, whatever it was.
Now we are eagerly awaiting the trials (one begins next month), the sentencing and the slamming of the prison door. In a separate drama, Wang's family have bickered over the fate of the fortune; it now seems it will end up as some sort of charitable trust overseen by, among others, property tycoon-playboy Cecil Chao and the immortal and omniscient Ronald Arculli – all so predictable it is barely worth mentioning.
In Matthew 16:16-18, Jesus renames Simon the apostle Peter, which of course means 'rock', and pronounces him the foundation of the church. As if to wrest a bit of the limelight back at this juncture, Tony Chan renames himself likewise through christening at Crossroad Community Baptist Church in that land of spiritual devotion, Tsing Yi…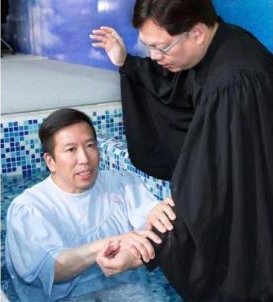 Evildoers who find God provoke an obvious question: is it real, or a publicity gimmick? Watergate conspirator Charles Colson spent his whole post-prison life back behind bars spreading the word among convicts. We can't rule out the possibility that Tony/Peter Chan is genuinely distraught about the terrible things he has done and has sincerely accepted Jesus, who died for these and our other sins, into his heart. His denunciation of feng-shui as (correctly) the work of the devil suggests that he has sensed a whiff of fire and brimstone and is petrified of what awaits him in the hereafter.
But there is a problem – apparent in the picture of Chan in the Tsing Yi baptism pool. The poor bastard was born with the face of a fraud that probably not even plastic surgery could fix. The perfect lighting and composition of the photograph magnify it. Could it be that he fears Correctional Services Department congee for breakfast every day for a few years more than eternal damnation? Will a Hong Kong judge be fooled?
Of all parts of the entertainment industry (in the broadest sense), religion is especially prone to taking itself too seriously. Crossroad Community Baptist, to which the charming christening photo is credited, no doubt has its own agenda here. Rescuing a fallen celebrity villain can't be bad for business. (Note also that the shot was taken before the dunking into the water, after which the subject would have look disheveled and basically silly, not in keeping with the image of perfection and piety.)
I declare the weekend open with an exclusive look at that baptism pool up close…