About 10 minutes into Hong Kong Financial Secretary John Tsang's almost unbelievably vapid 2013-14 budget speech, it sank in that – sure enough – it's Groundhog Day. The man really was just presenting much the same set of spending plans as the year before, and the year before that, and the year before that. If there was a slight difference this time, it was that he seemed slightly more concerned about the imaginary problems that on the one hand can't be solved and on the other hand prevent us from solving our real problems.
He wrung his hands about our terrible fiscal structure (the one he has presided over for some six or so years now). Well, it's hardly perfect; revenues are volatile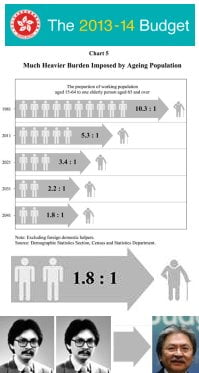 and it imposes a disproportionate part of the burden on middle-class people who didn't buy property at the right time. But it leaves the majority of people and companies free of paying any direct tax, takes no more than 15% from the rest, and avoids – by a million miles – the public deficits and debt that will be the ruin of future generations in the West. If he had any 'vision' or plain nous, he would see this as an opportunity to refine a fiscal structure the world would envy, not wet himself about it as some sort of threat.
He went completely over the top about the aging population. His straight-line extrapolation of the dependency ratio (workers to retirees) showed there will be just two sprightly, enterprising, productive people of working age for every burdensome, senile, crotchety old hunchback with a walking stick by 2041. The truth is that we have no idea what will be what in 2041. We do know that the forecast makes no allowance for migration; ignores foreign domestic helpers; assumes everyone will always retire at 60/65 even as rising health levels leave them living well into or beyond their 80s; and assumes educated and skilled future retirees will have the same low savings as today's elders – refugees who scraped a living in sweatshops.
(Rather than having too many oldies, it could be that we don't have enough kids. But then why did the last government help push up housing prices, knowing that this delays young people's marriages, thus births? Why did they consolidate an education system that reserves opportunities for the better-off, convincing more parents to have just one kid? Why are officials, as we speak, up at the Court of Final Appeal trying desperately to ensure that we keep out thousands of Mainland and Filipino children? Why, in short, are we run by cretins? Best stick with the 'too many oldies' approach.)
The 'aging population' is a problem in the US or Europe because of huge unfunded pension liabilities. Otherwise it is the result of people living (and being productive) longer because they are healthier. If that's a problem, making people sicker so they die younger would be a solution. The 'problem' is a con on the part of Hong Kong's bureaucrats to make people believe the government needs to hoard resources (not least for their own pensions). Hong Kong's opposition politicians' response? Demand a universal pension that will put us on course for a Western-style system that ultimately goes bust – thus apparently proving the bureaucrats' case.
And what did Tsang decide to do about these terrifying apocalyptic dangers looming over us? Well, let's boost sunset industries like logistics and parasite industries like tourism, and everyone gets yet another electricity rebate, and welfare recipients get an extra month's handouts, and there'll be no property rates to pay for another year, and there's a few billion for this small and medium enterprises blah blah fund and a few billion for the caring sharing harmonious community do-gooder fund, and… that'll sort it all out for another year. Oh, and this… 

A middle-ranking property tycoon would lose face setting up something this trivial.