Perhaps not surprisingly for a city that owes its existence to unequal treaties, Hong Kong barely raises an eyebrow on learning that buyers of individual hotel suites at Cheung Kong's Apex Horizon project in Kwai Chung are signing some rather lopsided contracts. The Standard emphasizes the disclaimers purchasers sign for lawyers, who want to duck any blame if the government seizes the property, while the South China Morning Post spells out more about the conditions attached by the developer, which (among other things) wants management and other fees but not the responsibility to renew the hotel licence in 2018. These buyers would make an excellent case study for a behavioral psychologist.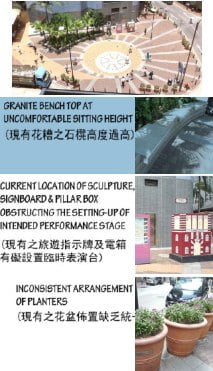 Meanwhile, back in civilization… I must have strolled down Sheung Wan's Wing Lok Street where it turns into Bonham Strand dozens or hundreds of times – most recently a couple of weeks ago. I don't recall ever seeing a rump of concrete and greenery at the intersection with Morrison Street. But apparently, there is one: a sort of sitting-out area with a very limited number of places to sit, apparently left as an open space as an emergency vehicle access route.
The District Council has decided to spend over HK$4 million on renovations, specifically the installation of a little covered performance stage and a pair of flagpoles. In the grand scheme of Hong Kong money-wasting urban-planning disasters, it is pretty minor. But the Central and Western Concern Group can't, as their name suggests, resist an opportunity to fret. One of them complains about the blueprint's 'ugliness' and 'gross nationalism', as well as the waste of money.
Flicking through the plan by Associated Architects, we find that the improvements are aimed at overcoming three problems: the benches are at an uncomfortable sitting height; the current sculpture, signboard and pillar box obstruct the intended performance stage; and the arrangement of planters is inconsistent. One possible set of solutions would be: buy a few more, bigger, seats (they're cheap and the place could use them); stop 'intending' a performance stage, since nobody has asked for one; and get someone to move the planters to the desired degree of regimentation. But, hey, then we've still got HK$4 million lying around.
So here's a better plan. First, replace the benches with seating with a different uncomfortable sitting height. Then, distract sitters' attention from the discomfort by giving them flags to watch gently flapping in the balmy breeze, for which we need to install two flagpoles – a tall China one and a short Hong Kong one. Second, 'intend' the performance stage after all, move the obstructions, and put in a nice expensive platform, also at an uncomfortable sitting height, with a curved roof like one Zaha Hadid would design if she did bus shelters.  Third, move the disorderly planters around until the anal District Office woman who's always straightening pictures on walls is happy.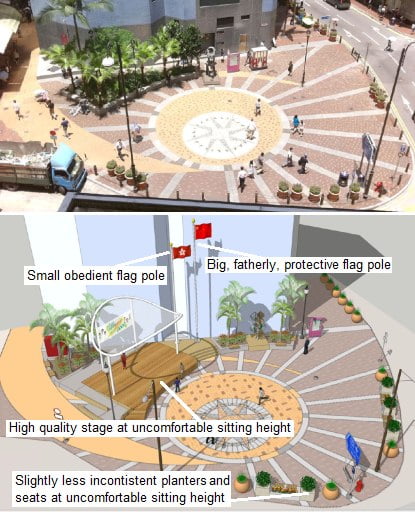 Tragically, even the most expensive 40ft- and 35ft-flagpoles don't run to HK$1 million, and there's only so much you can spend on a concrete stage with recycled  plastic wood composite decking and canopy. We need something else, aside from Associated Architects Ltd's invoice. And voila…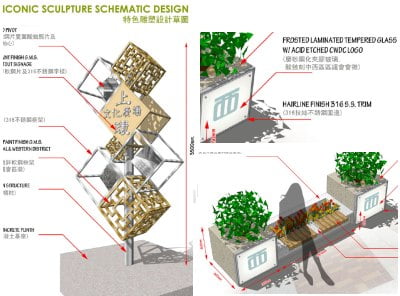 …a new iconic sculpture is born.
Central and Western Concern Group Guy's dislike of the plan's 'gross nationalism' is a bit harsh. But 'ugliness' seems spot on. The 'iconic sculpture' bears all the hallmarks of having been designed by a panel of civil servants. It is a column of tilted cubes; one has 'Sheung Wan arts platform' in Chinese, while several others have a Central and Western District Board logo, apparently based on a traditional lattice window. I say 'a' logo, as another CWDC symbol, based on the Chinese character for 'west', is acid-etched into frosted laminated tempered glass, not once but twice on the new seats.
The most vivid image in Franz Kafka's In the Penal Colony, is of course the machine designed to acid-etch the name of the crime into the prisoner's flesh. 'Crap design', perhaps. Or 'Wasting public money'. Just a thought.
And could this plan be a rehearsal for when the District Council's HK$100 million comes through?