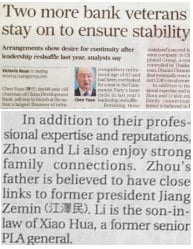 For the second day in a row, the South China Morning Post gives extensive front-page coverage to aging Mainland state banking bosses who should be retiring but aren't. All riveting stuff, of course, and needless to say we can't wait to read the next five instalments in the coming week.
Sadly, the continuity-in-banking story seems to have reduced the amount of space available for other China news, like the unveiling of People's Liberation Army Unit 61398, which has been hacking the hell out of corporate and government America these last few years.
If the New York Times wasn't scratched off Beijing's Christmas-card list after the expose of Premier Wen Jiabao's family's fortunes, it certainly will be after this. (Some more here and here.) There are two winners here: Internet security company Mandiant gets tons of glowing, free publicity, while the US government gets a nice stick with which to beat Beijing.
Chinese nationalists believe the US is out to surround their country. The 'Mary Ma' column in today's Standard seems to buy into this, endorsing the theory that the US is letting Japan devalue its currency in return for Tokyo's help in creating a 'corridor for the Americans to re-establish a foothold [in Asia]'. If Washington is trying to surround China, it is not with weaponry so much as with mistrust. It is pretty easy to do, as Beijing – or its apparently uncontrollable militant elements in and around the PLA – is doing at least half the work.
Ten years ago, most East Asian countries largely felt at ease with a rising China. Not so now. Beijing demands ownership of Philippine and Vietnamese waters and bullies a weak client state into undermining an ASEAN meeting, while its frigates lock their fire-control radar onto Japanese ships. The cumulative effect is the China Threat, and an East Asia in which Beijing squanders its goodwill and ends up friendless, even potentially surrounded by enemies of its own making.
The Mandiant report confirms what most people already assumed, but in considerable detail (the company pretty much hacked the hackers). No doubt Western security agencies do plenty of hacking of their own, but letting hundreds of kids loose scattering malware around government and commercial sites, including energy and telecoms networks, and stealing whatever they can find, is something else. The indiscriminate nature of the attacks suggests a sort of naivety or even hubris (you wonder if some of them got a kick out of being caught).
With what are still massively inferior armed forces, Chinese security officials, well-schooled in the principles of asymmetric warfare, probably feel entitled to level the playing field through on-line economic sabotage. But in terms of national reputation, it must be counterproductive. Anyone who wants evidence that China will not be co-opted into the established global order now has some more. Anyone who wants evidence that China simply cannot be trusted now has some more (regardless of whether these and other acts of aggression are authorized by the top levels in Beijing or are the work of rogue nationalistic/PLA elements).
More than ever, the US – in whose mouth, of course, butter never melts – can convincingly tell East Asian countries in particular that the lawless land of Bo Xilai will continue its insular and aloof middle-kingdom exceptionalism, treating the world as it treats its own, on the amoral conviction that might is right.
Or, as China's nationalists would put it, China will forge its own place and modus operandi in the world, and not submit to the shackles represented by hypocritical Western values and the failed, so-called rules-based systems of the last century.
As well as congratulating the fluent English-speaking, Harry Potter-loving geeks of Unit 61398 at 208 Datong Rd for their peculiar achievements, we declare the weekend open with a tribute – dedicated to the nostalgists out there – to an earlier and much-loved generation of hackers: Whatever happened to phone phreaking?