Maverick/wacko/scumbag pro-Beijing businessman Lew Mon-hung spends the afternoon at the Independent Commission Against Corruption, who are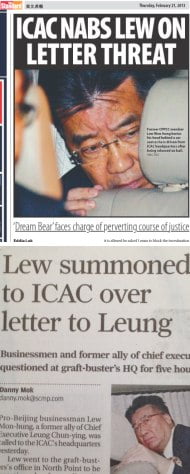 investigating his alleged, rather desperate, attempt to get the anti-graft sleuths off his back for an earlier – and needless to say, also alleged – offence. As the crestfallen face suggests, this is called 'digging yourself into a hole'. If the agency has a case, it seems that Lew imagined he could threaten Chief Executive CY Leung: call the ICAC off, or I drop a political bombshell by spilling the beans about you.
Is it still blackmail if you don't have anything serious on your intended victim? One for the lawyers. Either way, the dirt Lew said he would dish out proved illusory. More stuff about trellises and a claim that CY dangled the promise of a symbolic political post if he won last year's quasi-election. Maybe his defender will advise him to go for an 'unsound mind' plea, perhaps in the footsteps of Charles Guiteau, the disgruntled office-seeker who assassinated President James Garfield in 1882, as someone whose dashed hopes fuelled his psychopathic delusions. The alternative would be to come across as a grubby, distasteful, odious lowlife who thinks the rules don't apply to him.
On the subject of the rules not applying, Li Ka-shing's Cheung Kong looks set to make a killing from selling hotel suites at the Apex Horizon, while government officials try to work out what's going on. While developers routinely outsmart (or otherwise find ways to obtain privileged treatment from) our bureaucrats, this case is hilarious not only for being so blatant but for highlighting the idiocy of the high land-price policy.
The government says it wants homes to be affordable, yet insists on the payment of a huge, up-front, de-facto tax on residential land. If the kitchen-less apartments at Apex Horizon look like decent value for money, it's because they don't have this element in the price. Buyers could end up in a legal or financial nightmare. But it would be nice to think that a load of families end up with a (by local standards) bargain home that's perfect – apart from the stranger who comes in and puts a chocolate on your pillow every evening.