Hong Kong Chief Executive CY Leung's lawyers demand an apology from the HK Economic Journal for publishing an article mentioning alleged links with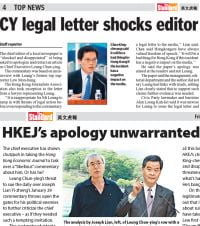 triads; the paper issues a lame quasi-apology, aimed more at its readers than anyone else. The offending column simply mentioned remarks attributed to – inevitably – maverick pain-in-the-rear Lew Mon-hung. As numerous commentators are now pointing out, if anyone made a slur, it's the Lew-dicrous businessman/politician/buffoon.
Pro-democrats and defenders of free speech see an attempt to intimidate the press, but temper their alarm with surprise at the embarrassing stupidity of CY's action. CY's extreme lack of political-PR street smarts leaves others who are usually given to undermine him bemused. One explanation is that CY was nagged into it by supporters. Another is that allegations of gangster links hit a very sensitive, deep-down nerve.
Earlier last year, I had an email – probably still buried in an in-box somewhere – from someone with a long and dependable memory. The writer, who's an old friend, recalled being present at an occasion well over 30 years ago at which a youthful CY was unambiguously associating with one or more known triad figures. Rumours of connections of this sort are two a penny. In some times and places, it is probably hard not to cross paths with triads, whose sprawling array of personnel and activities overlap with all sorts of legitimate business and respectable society. Surely.
The lawyer's letter controversy overshadows another story: activist Koo Sze-yiu's nine-month prison sentence for flag desecration.
When they made flag-burning illegal in Hong Kong after the handover, the authorities went to some lengths to remind everyone that quite a few democracies, as well as dictatorships, had such laws. Since then, a couple of flag-mutilators have been fined, and in 2011 an old Mainland farmer was jailed for a few weeks for the offence.
The magistrate in Koo's case cited public safety as a concern because the protestor burned a plastic flag, but does that mean it is illegal to set fire to, say, a Park N Shop bag? Koo and his buddies have burnt Japanese flags on the streets plenty of times. What if they burn a plastic one? Basically, the sentence (OK, two sentences) is silly, not to mention a gift to Koo, who welcomes and indeed relishes the martyrdom.
A quick back-of-the-envelope calculation (Correctional Services budget divided by number of inmates) suggests that it costs HK$290,000 a year to keep someone in prison.
On a brighter note, we can now declare a magnificent five-day weekend, plus the Year of the Snake, open. Then there's February 14.
I'm really looking forward to Valentine's Day this year because afterwards these wretched Cartier commercials that are clogging up YouTube… 
…will go away. Probably. Either way, YouTube Jewel of the Week Award goes to this: Leonard Bernstein's 1957 show on the bits Beethoven chucked out and improved upon while writing his 5th Symphony. They don't do network TV like this any more.