Criminal sentences in Hong Kong often seem curiously inconsistent.
A few days ago, the Standard reported a court case about a male Lan Kwai Fong bar employee being convicted of raping a drunk woman he had taken from the night-club district to a Wanchai motel. The judge knocked a few months off a five-year sentence in recognition of the guy's 'voluntary work record'. The story does not answer a lot of questions. If we adopt the slut-walk, reclaim-the-night, no-means-no principle, we assume that there were or can be no mitigating factors allowing for alcohol, hormones, misunderstandings, mixed messages or things starting off OK but getting out of hand. Not everyone sees this as realistic. But if we do, this is a straight case of predatory maniac attacking totally helpless and vulnerable victim. And the sentence looks way too low.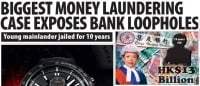 Then, today, we get the Solar System's biggest and most horrifying money-laundering shock-horror scandal for the last 100,000 years. Teenage Mainlander school dropout delivery guy comes to the Big Lychee and launders around HK$50 million a day for a couple of years through one account in one of the Bank of China group's lesser-known members, the Chiyu Banking Corp. (It specializes in serving the Fujianese community, and its name is popular among Internet scammers.) The guy gets over 10 years in prison, and the judge says she should have been allowed to give him more. Maybe he is a thoroughly unpleasant scumbag – we have no idea. But the people whose HK$13 billion were laundered are nowhere to be seen. And Chiyu Banking Corp, which must have picked up a few bucks in handling charges, swears that it complies with all the rules, and so far there is no sign of the regulators or police doubting them.
After my father died a few years ago, I received a cheque containing my modest share of his estate. If I recall, it worked out at some HK$300,000. It came with a copy of the will and some lawyers' letters, but that wasn't enough for HSBC. After some form-filling, they demanded proof that my father was genuinely no more. I was about to trouble grieving relatives for a copy of the death certificate, when someone emailed me a pdf of an obituary in a respectable publication praising his achievements in one of the world's less prominent disciplines. After showing it to his higher-ups, the HSBC Premium person let me deposit the bequest. It took a few weeks, all told.
I should have gone to Chiyu Banking Corp, who no doubt would have understood. And the Mainland dropout delivery guy should perhaps have been a bar-tending rapist. Meanwhile, all those other obscure banks that line our streets seem invariably busy. Indeed, people from the Mainland and elsewhere are buying local apartments every day with suitcases bursting with millions of dollars in cash. And Hong Kong preserves its 'reputation as a financial centre of integrity'.