The Hong Kong government might penalize property developers who hoard newly built apartments in the expectation that prices will continue to rise. At least, that's what Chief Executive CY Leung says (he actually hints that the real estate industry has a social responsibility to ensure a 'timely' supply of homes). REDA, the property cartel's lobby, has the nerve to whine that this would 'infringe the principle of a free-market economy'. (They said the same about the special stamp duty on non-residents' apartment purchases. These are also the same scumbags who claimed that a regulation requiring them to advertise true rather than inflated apartment sizes would go against the Basic Law's constitutional guarantee of freedom of speech.) I have a lot of time for free-market economics, but my most cherished principle is that if the property tycoons hate something it must be good, so I would say: go for an anti-hoarding tax.
Reasons it won't happen are numerous. It sounds like exactly the sort of thing you would promise to consider if you are trying to mollify critics who expected tougher action on housing prices in last week's policy address. The number of extra apartments this policy could open up is in the few-thousands range, which might soften prices slightly, but hardly significantly. Also, it would be a far more radical move than it initially sounds. Drip-feeding (and, we can be sure, coordinated) supply of units onto the market, with pro-tycoon newspapers helpfully reporting apparent rushes of buyers, is one of the pillars of developers' margins. And, as cynics will note with glee, one of the biggest hoarders of unsold apartments is Hang Lung, run by the slightly wacky Ronnie Chan, who is one of the few tycoons to back CY rather than Henry Tang when the former's bid for CE looked no more than a grandiose publicity stunt. Still, you can't help but detect a hint of nervousness when a solidly pro-tycoon editorial voice says "The so-called vacancy tax is far-fetched, and won't work. Many people are saying that."
A far more effective – and hugely radical – measure would be to penalize private investors' empty units. The exact number of these seems to be a bit of a mystery, with some people saying 240,000 and others saying more like 100,000. Administratively, it sounds like a nightmare; how do authorities know whether an apartment is empty? Morally, it comes down to whether property rights apply to people who hoard necessities of life that fellow-citizens need. The best argument,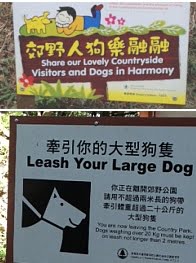 reinforced by a couple of recent hikes through Hong Kong's countryside, is probably environmental. Why cover more land (or coastal waters) with concrete to duplicate existing but unused infrastructure? (Unless the alternative is to continue the current trend of dedicating countryside to canines, in which case, pave it over.)
Property bulls will dismiss Hong Kong's 13.6-times-income affordability ratio as misleading 'because half the population live in public housing'. But that's putting the cart before the horse; property is too expensive for half the population to buy. In Manhattan, this sort of trend is leading to the banishment of the (lower- and middle-) middle class. In Hong Kong, we don't have a New Jersey next door to move to. As it stands, the housing situation almost looks designed to bar families from becoming middle class and even force some of the younger generation back down the economic ladder.
Articulating it this way would be a great way to prepare the ground for the inevitable market crash. It seems pretty clear that CY and his team see this coming and don't want to take any blame. If they had a sense of adventure, they would talk the market down now. They should announce plainly that anyone buying a flat in City One Shatin for over HK$10,000 a square foot is stupid and shouldn't waste time crying about it when they end up in negative equity. Furthermore, they should publish a formula based on current and estimated incomes and financing costs and other factors to produce official target affordability ratios for households in different income groups. Pledge to deliver that (say, it might work out at HK$5,000 psf in City One) through suspending land premiums, building 'artificial islands' or whatever it takes in the years to come – and watch as prices halve and much of the problem solves itself.
CY Leung also pledges, among all this, to boost home sizes. While we're waiting for that, meet the tiny-house people.