The front page is largely fictitious today. Hong Kong Chief Executive CY Leung 'survives impeachment bid', we are told. Ever since the procedure was invented in Medieval England, impeachment has largely been a political rather than legal weapon. The pro-democrats trying to get CY beheaded in the town square are no doubt inspired by the example of US President Bill Clinton, who was charged with perjury in the Monica Lewinsky affair. Substitute a car port roof for a vivacious and curvy intern, and a trellis for a cigar, and you've sort of pretty much got the case against CY. Clinton was found not guilty by the Senate, which acts as the court.
So it is a grand (and some would say archaic) gesture, which means that legislators and their supporters trying to impeach a leading public office-holder are in danger of coming across as pompous, pretentious, self-righteous, self-aggrandizing and/or boorish. In the UK, various extremely moral, ethical and – indeed – unimpeachable heroes of truth and justice went to some lengths to impeach Prime Minister Tony Blair for the war on Saddam Hussein; while the attempt was doomed, the feeling of being involved in such a campaign – and, dare we say, all the publicity and adoring support from trendy people – were better than sex. And this maybe helps explain why Hong Kong's pro-democrats were jubilantly pronouncing their motion a victory yesterday even while agreeing with anyone pointing out that it was going to fail.
The votes that 'negatived' the motion came from the functional constituencies, which does at least give the pan-dems some authentic moral high ground. The story has also attracted a bit of attention overseas, where it could actually enhance the Big Lychee's image as a modern Western-style democracy, because otherwise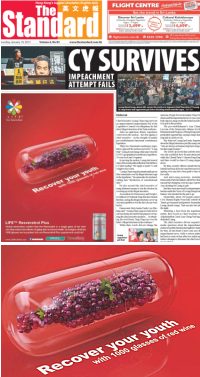 those Hongkongers wouldn't have impeachments there would they? (Or have so much freedom.) I don't suppose it has been widely reported across the border, though the local edition of China Daily can't resist the opportunity to put the word 'fizzles' in a headline. To Mainland tourists, it must be like finding the Queen's head on dollar coin: I've a feeling we're not in Guizhou any more.  Meanwhile, Hong Kong continues to await the pro-dems' proposed solutions to air pollution and housing prices with interest.
The other big item on the front page is an ad. 'Recover your youth', it says, 'with 1,000 glasses of red wine'. To my amazement, the substance in the magic capsules actually exists, even though the word 'resveratrol' has 'dreamed up by marketing department' written all over it. Needless to say, the claims are garbage, and while red grape skins (or wine) may indeed contain some desirable nutrients, there are far cheaper and more enjoyable ways of obtaining them, which hardly need spelling out. The Standard carries quite a few ads for junk and semi-junk medicine/cosmetic products, and I would be intrigued to know which demographic the marketers are targeting (or think they're targeting).
For people finding it hard to pin down how they feel about it all, and for amateur linguists and admirers of graphic representation of information, something factual: emotions for which there are no English words.