Armed lunatics in the US mow down kindergarten kids and firemen; factory fires in South Asia kill hundreds of sweatshop workers; North Korea and Iran upgrade their respective nuclear weapons capabilities. And then, bursting out of the world's maelstrom of outrages and calamities: a Hongkonger has to wait two and a half hours for lunch. (Don't mock. A few years back, burly firemen went on hunger strike to protest the amount of volleyball they had to play or something, and within hours were fainting from the trauma.)
The politically correct angle is that China has opened the world's longest high-speed rail service, and it will "not only improve transportation conditions, but also cut logistics costs, boost the comprehensive development of land resources along the route, enhance the investment environment and improve economic collaboration and the division of labor between regions." ('Comprehensive development of land resources'; nicely put.)
A mildly skeptical view is that the 2,300-km, eight-hour Beijing-Guangzhou ride isn't worth it. It's quicker, and barely pricier, to fly, though at least the thing didn't fly off a viaduct and kill everyone.
The South China Morning Post's ravenous reporter on the inaugural service gets everything in perspective: the lunch service on the gleaming space-age bullet train was atrocious. She waited only two and a half hours because railway staff noticed she was with the press and hoped she would go easy on them if they fed her before the rest of the starving passengers – wrongly, as anyone who knows the Hong Kong media's fearless dedication to the truth would have expected. (Indeed, no flaw is too minor or distasteful to cover up, with supplies of cupcakes running out and "Chewing gum left on the window sill of the new train." Ewww.)
In terms of energy costs and returns on investment, high-speed trains make economic sense up to a particular speed over distances too long for buses but too short for aircraft. China's cross-country network is probably money down the drain, especially given that ticket prices are out of reach for people like migrant workers. Still, the attendants are no doubt very charming, and the drivers wear the most stunningly white gloves to reassure you how safe you are, even if a tad hungry…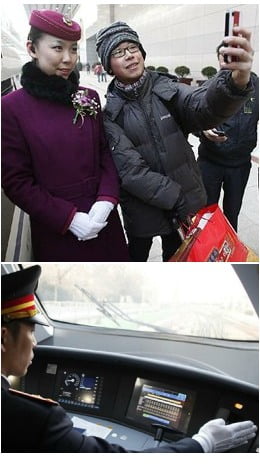 Meanwhile, back in the Big Lychee, vehicle owners continue in their pursuit of unusual personalized registration tags, providing further stimulation for one of our more unusual art forms. Following Last March's Dear Shanice, here's Shanice's reply.