The rather grandiosely named Advanced Institute for Contemporary China Studies was founded at HK Baptist University in 2008 to become a 'world renowned centre' in its field. Instead, it seems to have been hijacked by United Front elements determined to reveal evil, foreign, non-reds-under-the-bed influences in Hong Kong's education system – with predictably amusing results.
It had a hand in the infamous 'brainwashing' booklet that prompted the city's many suspicious parents and students to rise up last July against the proposed introduction of National Education in schools. The subject is now toxic and dead.
It also produces the so-called Blue Book, which is purportedly an annual report on Hong Kong's political, economic and social development. The book recommended the abolition of the Native English Teacher scheme because the barbarian language instructors had 'taken root' in Hong Kong, and proposed that all Permanent
Secretaries (the top civil servant in each policy bureau) should be appointed by Beijing. And it alleged that a HK Chinese University course was funded and essentially run by an 'American fund', a phrase presumably intended to make readers think 'CIA'. For this falsehood, and for trying to give the impression that others were responsible, the Institute (sorry, Advanced Institute) director Professor Victor Sit has been fired.
Baptist U's student paper reported last month that a pro-Beijing businessman donated the funding for the Blue Book, and he was Tsang Hin-chi. This tremendously grumpy old boy is a past member of the National People's Congress and a myriad lesser organizations, and has a HK$10 million doctorate from Sun Yat-sen University. He is boss of Goldlion, a tie (and of course real estate) company, and has criminal convictions for some sort of long-ago trading-document falsification. He donates millions in cash to Chinese Olympic gold medal winners, and has embarrassingly, on occasions, stopped scowling and broken into teary-eyed song at gatherings of the normally sedate HK Chinese Chamber of Commerce (the catchy Without The Communist Party There Would Be No New China). And he has an asteroid named after him. Oh, he also bought a liver harvested from an executed prisoner – so they say.
Apart from the fact that it has more backbiting and cattiness than a Miss World contest, and many of its members lapse into pathological obsessions about inane perceived slights and injustices, the world of academia must be a hellhole to inhabit because most of the intellectual rigour and enquiry has to be directed towards begging all sorts of odious people for funding and grants. Maybe Baptist U should have settled with having a plain, everyday not-very-Advanced Institute of something less hazardous, like tiddlywinks studies.
Here is his happy smiling self, joyously handing over HK$1.5/5 million for the Blue Book to Baptist U's Victor Sit (r) and yesterday's firer of Sit, Baptist U boss Albert Chan…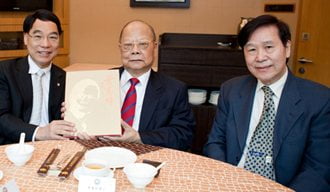 …to bring a little ray of sunshine and delight into our lives!