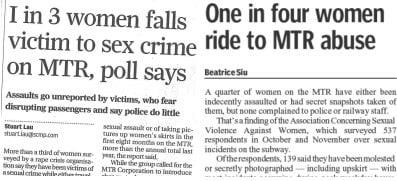 The South China Morning Post reports that one in three (the story actually starts 'More than a third of…') women has been a victim of what it terms 'sex crimes' on Hong Kong's MTR system. The Standard determines that the figure is one in four ('A quarter…'). At least the SCMP gives its singular subject the appropriate verb form. Well done.
The papers appear to be reporting two different-but-maybe-not surveys – sort of a parallel-universe thing, maybe. In the SCMP, the Rape Crisis Centre polled 533 people, and found only 10% of victims sought help, and three screamed loudly; in the Standard, the Association Concerning Sexual Violence Against Women surveyed 537 people and found that no victims went to police or MTR staff, but 2% yelled.
The 'sex crimes' are mostly undefined indecent assault or taking photos up skirts, with a dash of indecent exposure. Given the crowding on our mass transit system, every passenger has probably been accidentally brushed up against or rubbed or (what really freaks me out) breathed upon. You have to wonder how many of the

perceived assaults were conscious and deliberate. But who am I to say? Just because feminist groups accidentally happen to distribute their questionnaires among the more neurotic and histrionic segment of local womanhood, it doesn't mean the MTR isn't crawling with weird guys who get off on grabbing passing buttocks.
The Standard refers to the up-skirt photographs as 'secret snapshots' – which raises the obvious question about how, if it's a secret, victims would know. The SCMP refers to it as 'invasive photography', for which the Crisis Rape people's proposed remedy is, obviously, more surveillance cameras.
The surreptitious taking of photos up women's skirts is so bizarre you have to wonder who the victim really is. We are talking about some sort of mental disease here, probably originally from Japan; maybe in time the tragic cameramen metamorphose into hikikomori. (Why don't they do some serious creepy subway snapshots like these?)
The SCMP adds that the Rape Crisis Centre is also worried about areas beneath glass elevators becoming 'black spots for perverts' and doesn't like the idea of women-only train carriages because women should not be perceived as weak [so jab the pervs' eyes out!] and men and transsexuals are also victims. I'm sure they do some fine work, but maybe they should rename themselves the Rape and Anything Else We Can Think About Crisis Centre?
The biggest mystery to me, even more than the guys with cameras on sticks, is the appearance of two identical-but-different surveys,  by two very similar-sounding organizations, one in each newspaper, at the same time. They do say that if you understand quantum physics, you haven't studied it properly. And could there be a parallel universe where women who have a big hang-up about men seeing their legs don't wear very short skirts?