There is a picture of the new Chinese Communist Party chief Xi Jinping on each of the first six pages of today's South China Morning Post (on average: none on page 2, two on page 3). After a nail-biting American election, the ritualized unveiling of the new seven-man Politburo Standing Committee doesn't exactly scream 'world's next superpower'.
What will this new line-up of radical, young, reform-minded black hair-dye consumers do? They will trim the state-owned industries to encourage the more vibrant private sector, despite the fact that their families, friends and power bases depend on the privileges accorded the SOEs. They will allow market-based interest rates, so the masses get a return on their savings and capital is allocated efficiently, despite the fact that their families, friends and power bases are the main beneficiaries of the current system of subsidized policy loans. They will shift the economy away from investment to consumption, despite the fact that their families, friends and power bases thrive on the state's direction of resources away from consumers. And of course they will crush corruption – in other words, deprive their families, friends and power bases of their lucrative livelihoods.
They will give the courts more independence and allow a free press to introduce badly needed transparency and accountability to the political system, even though the Communist Party probably won't last five minutes afterwards. They will release political prisoners and allow open public debate of political issues to give the system badly needed legitimacy, even though the one-party state's authority will collapse almost immediately. They will end controls on things like petitioning and the Internet and learn to trust rather than fear the population, even though no Leninist system has ever done so before. Like the UK government in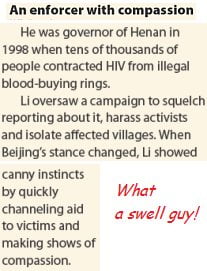 Scotland, they will allow referendums on independence in Tibet and Xinjiang, secure in the knowledge that the regions' peoples will overwhelmingly support continued union. They will build stability by respecting other countries' territorial rights, even though such a move would provoke the army and frenzied ultra-nationalists into overthrowing the regime. They will serve the country, rather than expect the country to serve them, their families, friends and power bases.
Oh yes.
I love the Standard's shoe-shining of incoming Premier Li Keqiang, whom they describe as an 'enforcer with compassion'. His qualification for such praise:
He was governor of Henan in 1998 when tens of thousands of people contracted HIV from illegal blood-buying rings.

Li oversaw a campaign to squelch reporting about it, harass activists and isolate affected villages. When Beijing's stance changed, Li showed canny instincts by quickly channeling aid to victims and making shows of compassion.
Makes you wonder what the enforcers without compassion in China are like. (And you have to wonder how damning the Standard would be about the guy if they weren't trying to shoe-shine him.)
As I say, flicking through today's South China Morning Post, you get picture after picture of the cherubic Xi Jinping and his cohorts – marching on stage, waving to the crowd, sitting down, standing up, clapping each other and marching off stage, in identical black suits, with identical ties and identical spectacle frames, for page after page after page. Then suddenly you get this…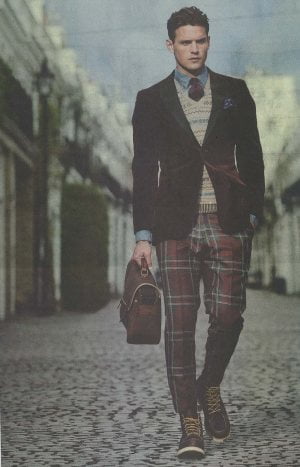 Yet another overpriced-crap-for-morons company has come to Causeway Bay to pay the planet's highest retail rents. It's called Hackett. I could just about keep the vomit down until my eyes came to his footwear.
This just in: CPC Congress wins worldwide plaudits!