Flicking through to the news about the latest report from Hong Kong's Director of Audit, I stumble across a little story about our city's Financial Secretary John Tsang. The Hong Kong Dollar peg, he says, is not to blame for local inflation. Adopting a Singapore-style peg to a basket of currencies, he goes on, 'would take away the territory's independent monetary policy'. I am tempted to think the Standard has made a mistake, but a Bloomberg article backs it up.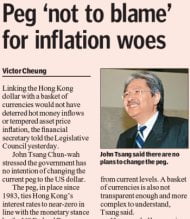 Assuming they're not both wrong, that leaves us with two possibilities: Tsang knows not even basic economics, or he is for some unfathomable reason trying to convince us to believe blatant falsehoods. The peg deprives Hong Kong of an independent monetary policy and ties us to a currency that is being debased, inevitably resulting in price inflation here (whatever it might do in the US, where debt deflation has been a real threat). The peg, under current circumstances, can only cause inflation here; we do not have an independent monetary policy. Tsang states the exact opposite of the truth.
There is a third explanation, and that is that in his garrulous and jovial spirit – augmented perhaps by a glass too many of a fine claret – words just poured forth unordered, at random, with no consciousness behind them. In fact, I hope that is the case.
Tracking down the audit results online, I then encounter a press release from the slightly sinister-sounding Office for Film, Newspaper and Article Administration (which if I recall correctly is a restructured version of something with a less creepy name). The government department is teaming up with the Hong Kong Evangelical Church School Services team to promote an Interschool Healthy Rap Contest and to remind youth 'to stay away from unhealthy information'. The theme of the contest is 'Healthy Information for a Healthy Mind'. Yes, this is what I'm thinking too.
We must be careful when approaching anything marked 'evangelical'. It doesn't always mean Biblical literalist lunatics who can't understand science and are getting ready for the Rapture. Most sects calling themselves Evangelical Lutherans, for example, are what Muslims probably call Moderate Christians. And a glance at the HKECSS website suggests that the government's partners are not from the Hong Kong tradition of Ark-building and trying to sneak Creationism into schools. Rather, they are in the far older, bigger and more noble Hong Kong tradition of hand-wringing, fretting, lying awake at night and pretty much wetting themselves all day about… young people and their possible lapse into unwholesomeness.
They also do a lot of good work with new immigrants from the Mainland and no doubt many other worthy causes. Which is more than we can say for the civil servants employed at vast expense with full pensions at the Office for Film, Newspaper and Article Administration. What other things do they do with our tax dollars? Why, they 'encourage the youth to develop healthy online habits' through 'the Healthy Mobile Phone/Tablet Apps Nomination Programme; the Meritorious Websites Contest; the Healthy Internet Video Contest [and] the Healthy Information Student Ambassadors Scheme'.
You can keep kids away from unhealthy information here. Paranoids worried about National Education may wonder if red-stained Beijing fingerprints are anywhere to be found on all this. I don't think so. It's just a bunch of space-wasting bureaucrats who absorb valuable oxygen and other resources thinking up almost surreally ridiculous ways to keep teens safe from real life, teaming up with a church charity that (I bet) knows a source of free-flowing financial assistance when it sees one.
And, eventually, I hack my way through to the Director of Audit. Sentence 2: "In 2012-13, the [Environmental Protection Department]'s estimated expenditure on managing air quality is $627 million." Makes the Office for Film, Newspaper and Article Administration look like a bargain.