"This is the last time anyone will try to do this…" If Mitt Romney wins the election today, he will be the last US president imposed on the rest of the population by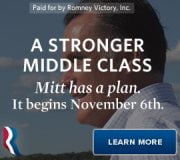 white males. From this point onwards, a candidate who fails to get the support of at least a reasonable segment or two of the country's women/non-white/non-Anglo voters loses, assuming a two-way race.
Mitt's Mormonism didn't become an issue. All fair-minded people will of course welcome this, but as a lover of entertainment I have to say: disappointed! Spoilsport evangelical preacher Billy Graham recently removed the Latter Day Saints from his list of cults and said all that matters is a candidate's position on "the sanctity of marriage as between one man and one woman; the sanctity of life; and yes, the protection of God's beloved nation Israel."
All religions must be started by charlatans or lunatics, but the relative newness of Mormonism accentuates its 'fakeness' and apparent strangeness. It would have been relatively easy for fundamentalist detractors (secretly funded in my fantasy by Obama sympathizers) to skewer Romney theologically as non-Christian. However, the theoretical 'weirdness' of Mormonism is counterbalanced by what it produces in practice: almost absurdly clean, hard-working, law-abiding, educated people who are more American than most other Americans. Only the radical atheists are creeped out by the sub-Mohammedan back story and the special relationship between Jesus and Missouri, and for all we know, under a Romney administration the famous LDS underwear will catch on among Baptists and Presbyterians.
Not much else would hugely change, despite all the clash of values and visions in the debates and ads. Mitt has been a bit of closet liberal at times, and it's not like circumstances leave the nation's leader with a lot of choices. That probably goes for the China/Asian security front as well.
My hunch is that we will not find out. A 10.00am glance at Google News suggests that Obama sympathizers are tentatively forecasting victory, while Romney-ites are saying it's too close to call. With a lot of early voting over the weeks, and a last-minute play of the Bruce Springsteen card, it suggests a clear win for Obama in the Electoral College. If so, the Tea Party types, hyper-conservatives and crypto-racists will be even angrier than four years ago. The Kenyan socialist got back in, and the demographics will never be the same again.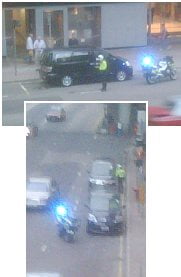 Good news…
…for students of the curious quasi-legalized illegal parking phenomenon in Central and other crowded spots: I spied a traffic cop giving a ticket to one of those big lumpy black vans, and then walk a few yards off to do a same to another one. This is a rare sight.
I have been told that the cops and traffic wardens largely tolerate illegal parking by private cars because, if not stationary, the drivers will simply go round and round in circuits waiting for their ultra-important bosses to emerge from whatever buildings they are in – and the traffic jams would be even worse. In a lot of cities, the trend is towards actively managing traffic by charging a hefty toll to enter urban areas or simply blocking streets off so vehicles just can't go there. In Hong Kong, the traffic manages the city; whatever it wants to do, we all have to go along with.
In the next photo I hope to take from the walkway over Connaught Road, the cop drags the driver out of the car and pistol-whips the guy into the path of an oncoming 20-ton truck.