As the property and stock markets show, Hong Kong is on the receiving end of a wave of hot money. The inflow is mostly due to quantitative easing in the big, debt-crippled economies, possibly augmented, some think, by Japanese capital fleeing the hostile Mainland. And the Yuan is strengthening against the dollar, pushing up prices of food imported from over the border, and increasing incentives for Shenzhen residents to come over and hoover up everything on the shelves in Sheung Shui stores.
If Alan Greenspan at the Federal Reserve from 1987-2006 was too stupid to see or do anything about his mega-bubble, what hope is there for Hong Kong, where our leaders are hardly more competent, and anyway have given the Fed control of our monetary policy? The pressure rises another notch. Even more, the poor find the cost of essentials rising, the lower middle class battle for space and goods with Mainlanders, and the bourgeois see their dream of home ownership slipping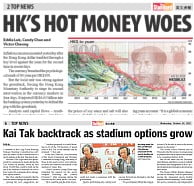 away. A few people will do well out of this (if they are not too greedy or unlucky with timing), but, to quote Craig Stephen, "…too many people are unable to join the liquidity party. Much depends on whether Hong Kong's unelected leaders are prepared to govern for more than just the top 1%."
The potential for serious crisis (say, at least 2003-scale) is that much greater. Meanwhile, Chief Executive CY Leung and his team seem overwhelmed. In their desperation to announce additional home-building capacity, they have proposed scrapping the Kai Tak sports stadium white elephant, backtracked in the face of vested interests, and now started muttering about increasing residential area at the South West Kowloon cultural hub. As if the 250,000 empty apartments in town don't exist. As if there isn't a grossly distorted market, leading to property prices that make fair economic value a fiction.
Is CY going to unleash a flood of new housing stock at just the wrong time, as he did in the late 1990s when then-CE Tung Chee-hwa followed his advice to build 85,000 units a year? Or is he just pretending he will do so, in the hope that the bubble naturally deflates in some way in the meantime? (Does he, or anyone, fully grasp all the long-term implications and contradictions here? For example, the non-landed middle class want housing to be cheaper so they can afford to buy – on the understanding that prices will subsequently double or treble in value again.)
And what about the affordability of food for the poor? (If speculators start hoarding rice, will CY respect their property rights and leave them alone as well?) And what about the Mainland tourists and traders swamping the trains, streets and shops?
Some people have plentiful disposable income, own their home and don't live in areas teeming with tourists. But they too are coming along with another problem for CY and his team. They are starting to notice that the Mandatory Provident Fund is the anti-matter of savings schemes. It's supposed to give you more than you would otherwise have for retirement – it actually gives you less. Columnist Jake van der Kamp discussed it yesterday, while two South China Morning Post readers give us the benefit of their opinions about this fraud/theft/not-merely-legal-but-compulsory mugging…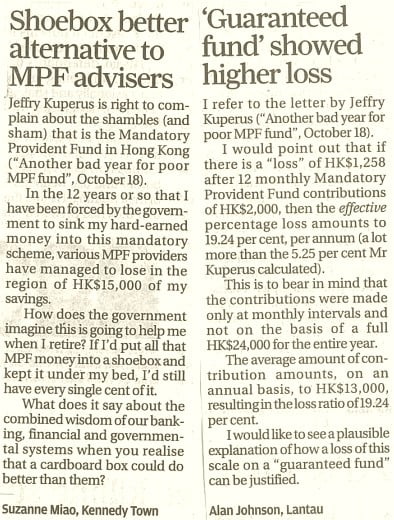 The good news for CY is that Hong Kong's opposition pro-democrats, who could be triggering rebellion and revolution in this climate if they felt minded to do so, are instead fighting to get welfare for billionaire tycoons like Li Ka-shing. Even so, it must be getting pretty hot in the government kitchen.