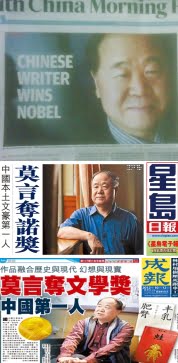 "This suggests that the West doesn't only embrace individuals that are against the Chinese system." So says stridently nationalist Global Times on the awarding of the Nobel Prize for Literature to Mo Yan – the guy we'd barely heard of who wrote the novel that became one of those acclaimed movies we never saw back in the late 80s. Which is what the Literature prize is for: recognizing undoubtedly outstanding writers from Uruguay, Senegal and other places that don't do physics and medicine, and reminding us that not everything is in English. As GT puts it: "The Literature Prize is not as direct as the science prizes."
Anyone who has studied literature has had to analyze texts to see what the words actually tell us beyond what the author wants us to think. The Global Times article acknowledges the Nobel for Mo with a grudging defiance that makes it clear China is a country that wants and expects more. More respect, more Nobels, more science Nobels, more – in due course – kowtowing. Read it properly, however, and the real message it delivers is very different. This is a country (or, to be fair, a state-run newspaper) of deep self-absorption, self-pity and insecurity.
Is it possible that Taiwan, which is where I will be until Wednesday, is in some ways more at ease with its place in the world? Who cares that you're a renegade province and not supposed to exist if you can land F-16s on freeways? The neighbourhood I will be staying in certainly seems interesting. Strolling around it on Google Maps' Street View, I find that on one side of the street, it's a beautiful sunny day; cross directly over to the other side, and suddenly it is overcast and raining…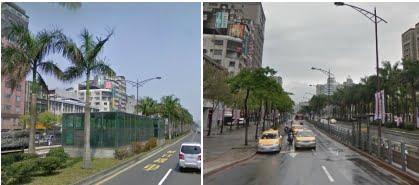 Around the corner, there is an interesting-looking restaurant 50 yards along; go right up to it, and it suddenly becomes a grimy motorbike repair shop. That's what I call hallucinatory realism.
I officially declare a) this weekend open and b) Time and Newsweek magazines to have finally degenerated into peddlers of superstitious, New-Age mumbo-jumbo now they are explaining what your computer-using dog thinks of you, and why there must be an afterlife because a near-death experience happened to a neurosurgeon.