The cold, white, stiff corpse that is Moral and National Education is to be buried deep under the ground, with a tube sticking from its mouth up to the surface, to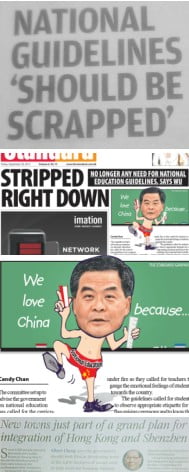 give the impression that it might start to breathe again. The handful of schools that have adopted the subject may have no official guidelines to follow; they will also be allowed to change its title. So they could decide that the course should consist entirely of calisthenics and call it Physical Education, or they could dedicate it entirely to calculus and call it Advanced Mathematics.
Among the friends the government has lost because of this episode are its, well, friends. When schoolkids and teachers marched, when the pro-democrats hurled abuse, when the pro-Beijing politicians looked away in silence ahead of election day, a group of reluctant loyalists did what they saw as their duty and calmly supported MNE as a harmless and inconsequential but nonetheless vital area of study for the city's children – with as straight a face as they could manage. They're not happy.
Meanwhile, in a galaxy many light-years away, Chief Secretary Carrie Lam professes utter bewilderment. Something's happening here but you don't know what it is do you Mrs Lam? One minute everyone seems laid back and relaxed about developing new towns in the northeast New Territories, then suddenly they're up in arms about it – and for all sorts of reasons. She wonders whether the answer could be 'innovative' ways to communicate with the public, such as this new-fangled thing called the Internet. Way back in the darkest days of Tung Chee-hwa, this was always the cause of popular opposition to policy: people's sad inability to understand it. Just explain it to them successfully, and they will believe.
In this particular case, it might actually be true. Maybe the government really is going to minimize developers' involvement and maximize supply of public and affordable housing. Maybe it really will make sure all the new apartments go to Hong Kong people and not Mainlanders. Maybe it really will arrange a fleet of winged pigs to fly commuters from the new settlements to and from town free of charge. But people haven't heard it in a way that convinces them it's true. Broadcaster Albert Cheng seemingly has more credibility in managing to insist that it's all part of a strategy to merge Hong Kong and Shenzhen – and create another desolate Tin Shui Wai, though that location in a combined super-city would surely be buzzing.
The charitable among us might almost feel sorry for Carrie and her colleagues. Something is happening that's far bigger than they can manage. Hong Kong is experiencing a backlash against attempts to turn it into something it isn't. The government can't admit that a secret but ham-fisted policy of Mainlandization was launched, let alone promise that it will now be suspended as counterproductive. It can't (apparently) drastically reduce the number of Mainland visitors or bar them meaningfully from buying second homes here. It can't even officially admit that National Education is completely over and done with and has ceased to exist. It can't do much else because its own citizens won't let it.
Maybe the government should enlist mouth-frothing Communist Party loyalist Lau Nai-keung to deliver its message in his unique ranting style. His column today announces the imminence of China's Great East Asian Co-Prosperity Sphere…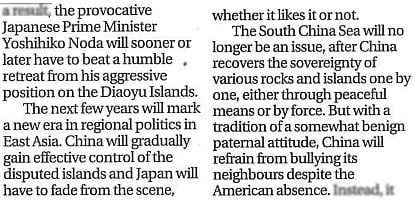 As with Cheng, he offers no evidence for any of this. He concludes by saying that Beijing must "formulate a revolutionary strategy to achieve a breakthrough, and any new policy measures will inevitably include Hong Kong," where, of course, we just can't wait. I suppose World War III might resolve the New Territories issue one way or the other. Lau ends with the rather lame comment "the new situation will become more apparent late next month." In other words, 'I know no more about any of this than anyone else'.
The weekend is declared open with a question: What have the Moon Goddess and Chairman Mao Zedong done for us lately? Full answers will appear here on Monday and Tuesday respectively.