What's going on here? A bank teller called Teresa is forced to sell high-risk investment products to her clients, and is tempted to steal a big bag of cash that belonged to her wealthy client Yuen. Meanwhile, a small-time gangster called Panther attempts to rob Yuen – a loan shark – to help his debt-ridden cousin Dragon, who suffered huge loss on when the financial crisis hit. The case is being investigated by an upright police inspector called Cheung, but he also has a heavy financial burden on his shoulder as his wife Connie is eager to buy a luxurious apartment they can't quite afford.
Sounds like just another day's space-filling items from page 4 of the City section. Actually, it's the plot to Life Without Principle, Hong Kong's entry for foreign-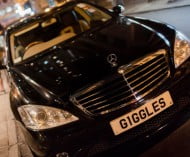 language film at the Oscars.
As if to prepare Americans for the eccentricities of the Big Lychee's culture, the New York Times does an investigative piece about our city's vanity plates. To our shame, it even carries a photo of the gut-wrenchingly embarrassing Mercedes with a tag reading GIGGLES. Sadly, the NYT didn't see fit to show WHITEY – a Westerner's gleaming black Morris Minor convertible I saw zooming up Lyndhurst Terrace the other day. And yes, it's out there on the Internet. (Innards and all, for car buffs.)
If only the rest of China could attract such positive, if bemused, coverage. Instead, the world's media contains a steady stream of reports about China's apparent new-found confidence (or assertiveness, or aggressiveness, or arrogance, or scary, reckless and irrational belligerence – according to taste). We don't know why the recent territorial outbursts against the Philippines, Vietnam and of course Japan have been happening. Are they to do with power struggles during a time of political transition in Beijing? Are they intended primarily for a domestic public audience as a diversion or to bolster support for the regime? If so, can we assume that this prickly nationalism will subside when things settle down up there? Or is this part of a bigger and irreversible trend towards more and more, in-your-face, bullying uppity-ness? And what happens when, in 2016 or so, President Xi Jinping and the PLA have to humiliate the motherland by publicly backing down from some idiotic claim and gunboat-dispatching after an overpowering US-Japanese or US-Vietnamese-Indian-Australian flotilla says enough is enough?
For people who like to worry, Asia Sentinel offers two disturbing articles. Philip Bowring in Lebensraum and China says the claim to the Diaoyu/Senkaku Islands is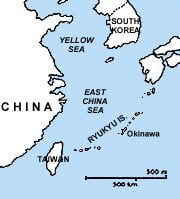 a thin end of the wedge; the logic of China's case is that the country is the rightful owner of the whole Ryukyu chain, or at least the ones south of Okinawa. (Turgid historical, or maybe pseudo-historical, detail courtesy of China Daily.)  Next stop, Honshu and then the Aleutians. Duong Danh Huy in China's four possible positions examines what the curved line embracing almost the entire South China Sea might actually mean. None of the four possibilities can be described as reassuring.
In making both these expansionist claims, however vaguely, Beijing's presumptuousness and conceit are little short of breathtaking. So much so that we like to think the Chinese aren't really serious; hence the soothing assumption that this is all something to do with domestic issues, hence the official line from the US, Australia and others that no-one is seeking to confront or contain China and we can all live together peacefully. Behind closed doors, however, there must be real alarm.
CSIS guru and US strategy advisor Edward Luttwak recently patted Australia on the head for quietly taking the Chinese threat seriously. His theory is that Chinese foreign policy is autistic: the country's leaders are oblivious to how the rest of the world views them or their actions. They are also, he says, making a huge error in believing they can rise economically and militarily at the same time. They would be far better off, he goes on, to focus on economic progress and adopt a stance of unarmed cooperation with neighbours (and oh boy, wouldn't they be receptive to that idea). He gives a good introduction to the idea in this short video. It's to push his book on the subject. Let's hope it's one of those trashy airport paperbacks full of wackiness – though that hasn't been his style in the past.
On a lighter note, I take pleasure in awarding a headline in today's South China Morning Post the 'Where have you been for the last seven decades?' Prize…