If, during his Chief Executive quasi-election campaign, Hong Kong's ex-Chief Secretary Henry Tang had been caught on video saying "It's not my job to worry about those people [who don't pay salaries tax]" no-one would have been remotely surprised or given a damn. He was to run Hong Kong for the city's (non-taxpaying) tycoons, and we all knew it. And if Republican US presidential candidate Mitt Romney had been found with a 2,000 square-foot luxury basement, it would barely have rated a paragraph on page six. After all, he's already got a 3,600 square -foot subterranean cavern complete with car elevator.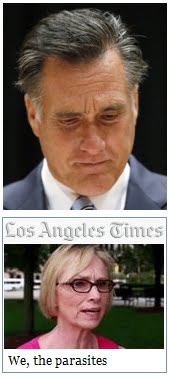 But it was not to be. The revelation about Henry's underground den caused public outrage, which one way or another led Beijing to re-write the script at the last minute and put CY Leung into office. And it was Romney who got recorded at a fund-raiser last spring dismissing the 47% of Americans who are retirees, students, low-paid or unemployed as dependents who expect handouts and refuse to care for themselves. He also revealed his election strategy: attract the roughly 7% of voters who are independent and voted Obama in 2008 by convincing them they made a mistake then. As well as the 47%, he also insults that target group in the video, explaining how his campaign would condescendingly help them accept that they had been fools last time. He goes on to reject any possibility of a two-state solution in the Middle East.
How much will this actually damage his campaign? Romney already had 'loser' written all over him. Forget opinion polls: British bookmakers say so. Like insurers, these companies make money by calculating probabilities with cold accuracy. Romney's offshore bank accounts and refusal to reveal earlier tax returns already hurt him. If Obama's team can't shred a multimillionaire opponent who pays relatively little federal income tax and who badmouths poor people who pay none, what can they do?
Henry Tang grinned, blamed his wife and just carried on safe in the knowledge that Beijing would hand him the job of CE on a plate. Romney has to try harder to recover. He's doing quite well. Rule one: don't apologize – don't, that is, concede that you made a mistake (which, as his comments on the independent 7% made clear, he knows makes you look stupid). He has also explained the comments half-convincingly: he was talking about focusing campaign resources, and non-taxpayers won't be receptive to messages about tax cuts, and that's why he "doesn't worry" about them, though of course he loves and respects them deeply in every other way. But it's all a bit complicated and detailed for most people's tastes. The Democrats could argue that Obama's performance has been pretty good given that the alternative was a 1930s-style bout of debt deflation. But then you have to explain what debt deflation is. The basic default subliminal message is that Obama means well even if he's learning on the job. So you just attack Romney the multimillionaire, and bingo – now he even gives you more ammo to do it with.
Has anyone sampled Romney's comments in a rap/hip-hop/whatever song yet?
Closer to home, World War III still hasn't started, but it seems the Germans have won. Mainland consumers are turning away from Japanese brands of vehicle, and Teutonic, and Korean, manufacturers will benefit. All these products are, of course, built in China by partly Chinese-owned, yes state-owned, ventures. This is shooting-yourself-in-the-foot cannibalization to make yourself feel good.
As part of China's perhaps overly strenuous and elaborate propaganda efforts, state TV has now started to show a weather forecast for the Diaoyu islands (the TV screen shot here also shows the outlook – storms – for Nansha, the new 'city' covering China's bits of the Philippines and Vietnam.) This undoubtedly useful new service started last week. And it raises one tiny, nagging question: why weren't they already doing it?